Efficient Survey and Valuation Workflows
Empowering property professionals with industry-specific survey and valuation workflows designed to help you save time, improve compliance, grow sales and ensure consistency for your customers.
Optimised Survey and Valuation Processing for Businesses of All Sizes
Our Survey and Valuation workflows are meticulously crafted to streamline your entire survey and valuation process from the initial inquiry through to the crucial report follow-up. Tailored specifically with surveyors in mind, these workflows are geared to simplify your daily routines and help you focus on the tasks that add value instead of the ones that drain time and distract you from customers. 
Continue scrolling to view all of our survey and valuation enhancing features and integrations. 
Streamlining Your Lead Management: An Efficient Approach
At the heart of our platform lies a robust and comprehensive suite of tools designed to streamline your lead management process. Whether you're receiving inquiries through your website, fielding phone calls from interested prospects, harnessing the power of comparison sites, or collaborating with trusted referral partners, our system is engineered to effortlessly handle it all. 
Check out the tabs below to learn how you handle every type of lead that comes in.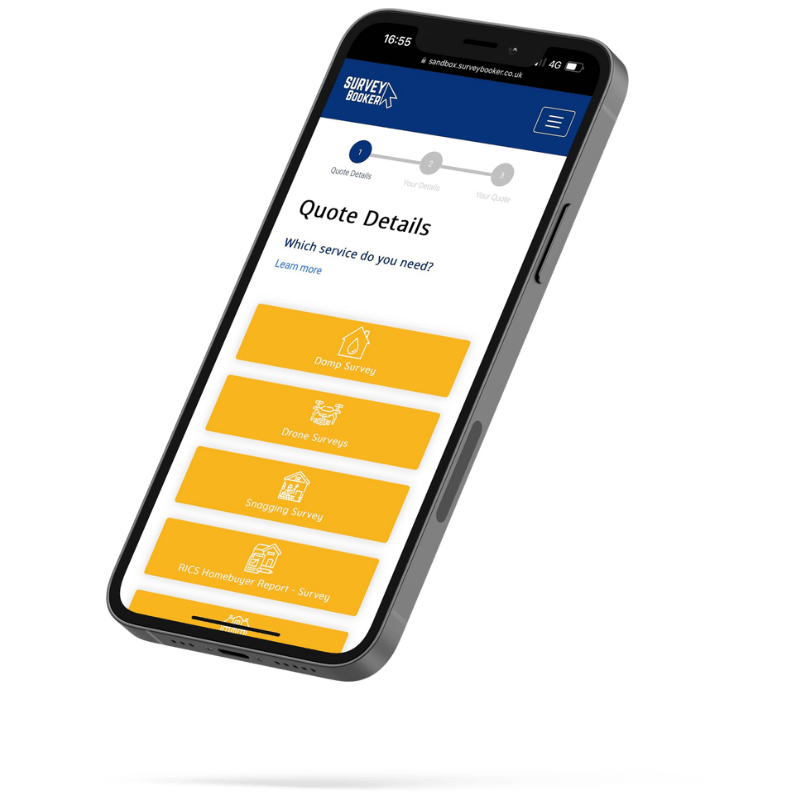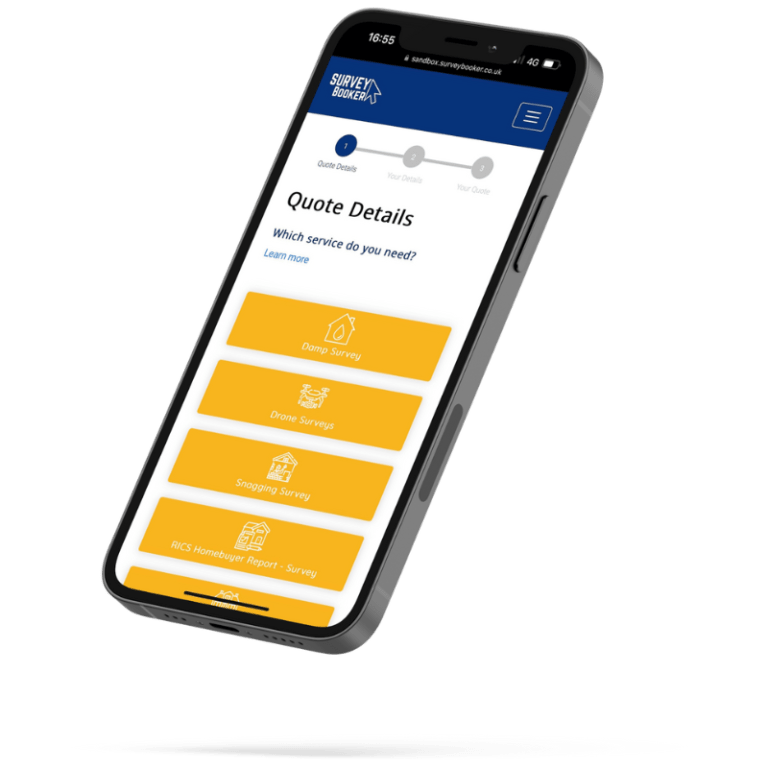 Streamline Your Phone Enquiries
At Survey Booker, we understand the significance of handling phone inquiries with ease and precision. When you engage with potential clients over the phone, our platform ensures a seamless process for capturing and managing their information. We also have VoIP integrations to help reduce time on data entry. 
Say goodbye to cumbersome paperwork and spreadsheets. Our intuitive forms guide your conversation, allowing you to effortlessly input vital details into our system as you speak. This real-time data entry minimises errors and ensures that no crucial information is lost in the shuffle.
When the conversation reaches the point of quoting, Survey Booker empowers you to generate quotes effortlessly. Whether you prefer an automatic quote or a more personalised manual approach, our platform caters to your specific needs.
Every interaction is meticulously recorded in the job history. This not only keeps a comprehensive record of your client engagements but also enables you to track progress, making it easier to pick up where you left off during follow-up.
If a client provides an email address, it seamlessly becomes part of your communication chain. This integration ensures that your follow-up emails and correspondence are sent to the right inbox, enhancing the overall efficiency of your communication process.
Since implementing Survey Booker it's allowed us to follow the same logical process for every client. It's all so drastically improved our efficiency of dealing with clients enquiries, turning around quotes and just the general administration side of things which has allowed us a lot more time to just spend talking to clients and obviously carrying out the day job of going on doing surveys and project work.
Transform Your Website into a Lead Generation Powerhouse
Transform your website into a powerful lead generation tool. Easy to integrate, add a custom-branded quote form to your website to help convert valuable web traffic into tangible leads. Your form offers different quoting options. Whether you prefer instant quotes, estimates, or manual quotes, your website now stands as the definitive destination for potential clients to make initial contact ready for you to follow up. As you embark on your lead management journey, here are some key features that mark the first step in your workflow.
The magic doesn't stop with the form submission. An automated welcome email extends a warm embrace to your new leads and confirm receipt of their enquiry. This initial outreach goes beyond mere courtesy; it's a strategic move that keeps your lead engaged and interested until you can make contact.
The welcome email is more than a polite gesture; it's a vital communication tool that can help set clear expectations about when your team will be in touch. This transparency reassures your lead and reduces the temptation to hastily book with a competitor, demonstrating you care about setting expectations at every touchpoint. 
Supercharge your website's lead generation by seamlessly integrating a custom-branded quote form to encourage customers to make that enquiry. This strategic addition serves as a powerful conduit, converting valuable web traffic into a tangible lead you can speak with.
With this form, you have the flexibility to offer various quoting options. Whether it's instant quotes for those seeking immediate answers on more simple jobs, estimates for those weighing their options, or personalised quotes tailored to individual needs. Your website becomes a one-stop destination for all types of potential customers.
Beyond a simple acknowledgement, the welcome email effectively communicates your unique selling points. It's a chance to showcase what sets your services apart, ensuring that the lead not only waits for your follow-up but eagerly anticipates it.
So, of course you can put survey Booker on your website to give people an instant quote or a bespoke quote and that's actually increased foot traffic to my website by 400% in the first month alone
Effortless Management of Comparison Site Leads
Survey Booker streamlines your interaction with comparison sites, making data management and client engagement effortless. Explore our range of features that have been designed to ensure a seamless journey in lead management and conversion from comparison sites, ultimately enhancing your business's efficiency and success.
With our plug-and-play integrations, we take the hassle out of data entry. Leads from comparison sites are instantly added into your account, saving you time and reducing the risk of data entry errors allowing you to focus on contact time, not admin.
We understand the importance of timely engagement. As soon as a lead from a comparison site comes in, Survey Booker initiates a warm-up process. An initial email is sent to these prospects, introducing your services and keeping them engaged and informed while waiting for your personal touch.
For clients who've already made up their minds and chosen your services, we offer a streamlined booking process directly from the initial email. This convenience benefits both parties, as it simplifies the booking journey and ensures a smooth transition from lead to client.
Survey Booker has enabled us to create a managed flow of leads from a range of different sources. This has in turn led to a lot less manual work for the team, and created a smoother customer journey.
Elevating Partnerships to New Heights
At Survey Booker, we value the strength of partnerships. Our dedicated referral partner module is designed to foster collaboration and transparency, ensuring mutually beneficial referral relationships. It's your key to strengthening connections, boosting referrals, and growing your business through trusted partnerships. Take a moment to explore some of the partnership-enhancing features available.
We make it effortless for you to collaborate with referral partners. Provide them with easy-to-use referral links that enable precise tracking of lead origins. This transparency ensures that credit is given where it's due.
If applicable, our platform facilitates the establishment and management of referral fees. This ensures that your partners are duly rewarded for their contributions, creating a win-win scenario.
Grant your referral partners real-time access to track lead status through their branded accounts. This level of transparency not only builds trust but also allows them to stay informed and engaged throughout the customer journey.
By offering these tools, you elevate your partnerships to a more professional level. This not only enhances your reputation but also encourages more referrals, as partners are confident in the collaboration.
With more time available for our team we are now able to work on more leads and have also increased our conversion rate. We can offer a personal touch and have increased sales significantly. We are also able to spend more time building relationships with our referral partners ensuring that we have a strong flow of future leads as well.
Customised Lead Management
Survey Booker's API integration offers flexibility in lead management. Easily integrate custom website forms or accept leads from various other sources. 
If you prefer building custom website forms or importing leads from various sources, our API integration seamlessly accommodates your needs. This customisation empowers you to align lead management precisely with your business strategy.
With API integration, posting new jobs directly to your Survey Booker account becomes a breeze. This immediate data transfer ensures that you're always up-to-date and able to act swiftly on new leads.
Just like our website quote form, API integration allows you to personalise how quotes are generated. This flexibility ensures that quotes align with your unique pricing structure and service offerings.
Whether it's through initial emails or SMS, you have full control over how leads are engaged. Keep leads warm and informed until you're ready to make contact, ensuring that you're reaching out at precisely the right moment.
Once a lead is generated within Survey Booker, whether that be from the customer direct or from a referrer, acknowledgements are always given and the system generates a quote professionally. So the communication is seamless and straightforward right from the beginning that they have the first touch point with us.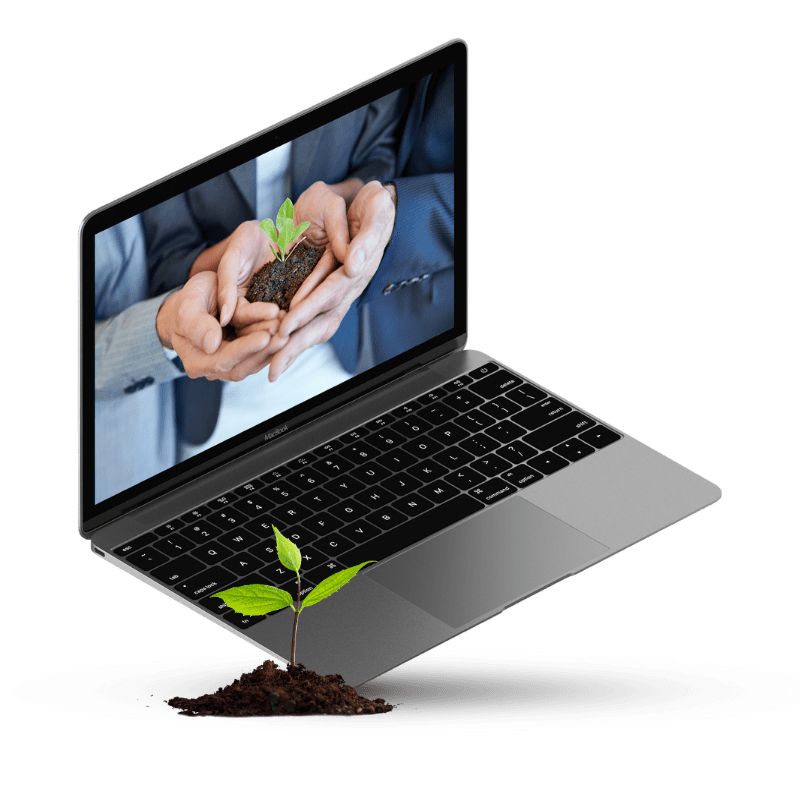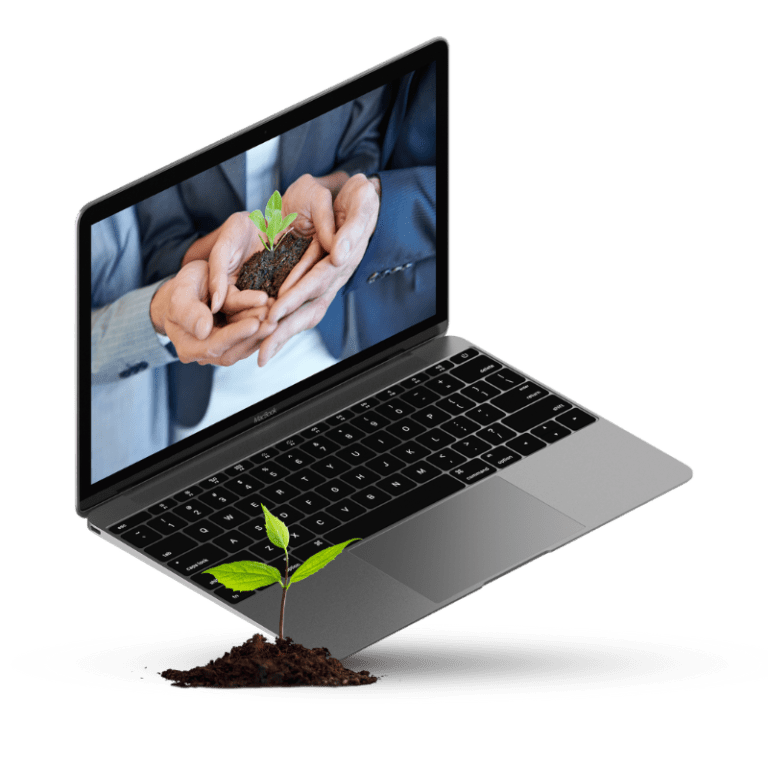 Nurturing Leads to Success
In the world of surveying, not every lead springs into action at the first encounter. Recognising this, Survey Booker equips you with a powerful lead nurturing toolset. We understand that providing potential customers with the right information at the right time can be the key to winning their trust and securing their business.
Here's how we empower you to guide potential customers seamlessly through their decision-making journey:
Crafting the perfect message for your potential customers is crucial. With Survey Booker, you can create your own tailored templates, brimming with all the information prospects might need to make an informed choice. These templates are not one-size-fits-all; they're personalised to resonate with each lead's specific needs.
Effective lead nurturing isn't limited to a single channel. Our platform facilitates comprehensive nurturing through both email and SMS. These channels allow you to re-engage leads, gently prompting them to take the next step in your conversion funnel.
 Consistency is key in lead nurturing, and that's where automation comes into play. Survey Booker enables you to set up automated follow-up sequences, ensuring that your leads receive timely and consistent communication. This keeps your business at the forefront of their minds, increasing the likelihood of conversion when they're ready. When you're busy, new leads are prioritised and follow-ups with older leads gets forgotten resulting in potentially lost business.
In the hustle and bustle of managing new leads and live bookings, it can be challenging to follow up with every potential customer. Survey Booker simplifies this process by helping you encourage customers to reconnect when the timing is right.
For leads that require a more personalised touch or those without an email address, Survey Booker has you covered. You can set tasks to follow up with warmer leads at precisely the right moment, ensuring you seize opportunities when they're most promising.
Once a lead is generated within Survey Booker, whether that be from the customer direct or from a referrer, acknowledgements are always given and the system generates a quote professionally. So the communication is seamless and straightforward right from the beginning that they have the first touch point with us
Managing terms and agreements can be a complex task, whether it's about getting them signed, acknowledged, or simply keeping them on record. At Survey Booker, we understand the importance of making this process as smooth as possible. Our comprehensive terms management process is designed to simplify the entire journey. It enables you to effortlessly send, track, and store your terms, catering to your customers' preferences, whether through digital channels or traditional postal services.
Whether you choose a digital or traditional approach, our platform ensures you have a clear, efficient, well-organised, and fully compliant way to handle your agreements.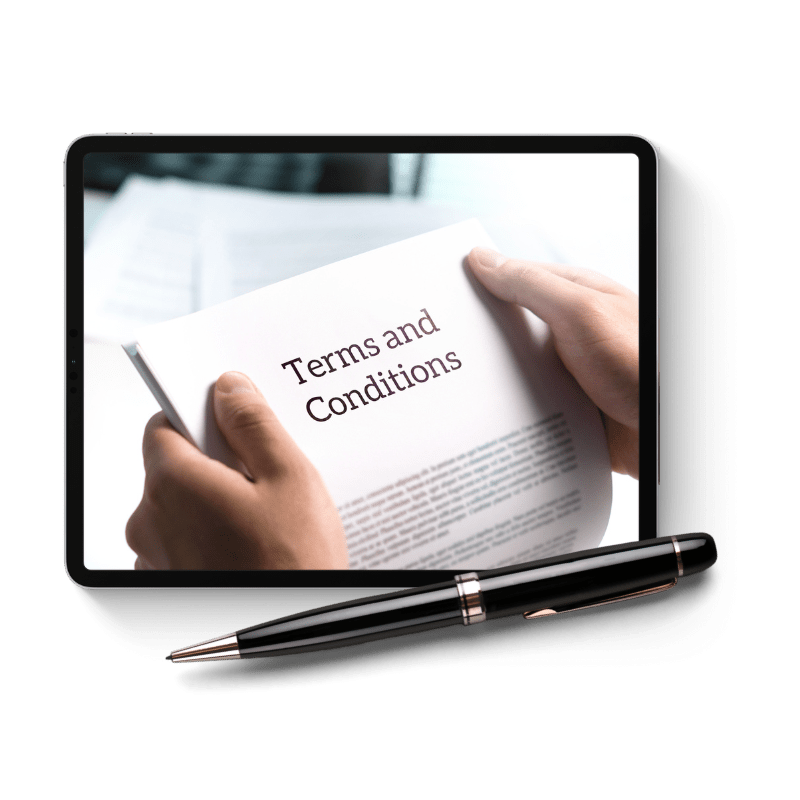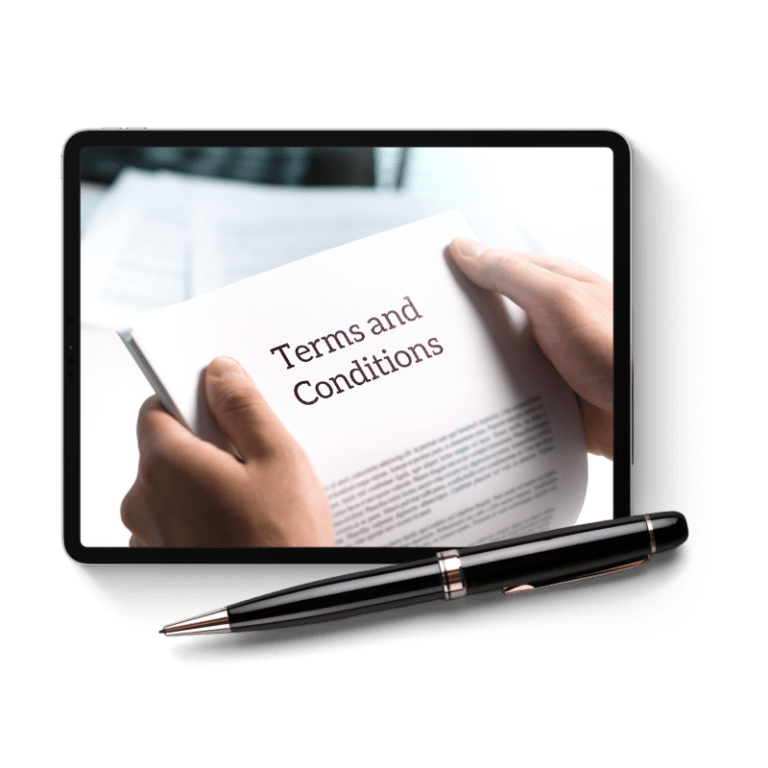 With Survey Booker, sending terms for signing and acceptance is a breeze. In just seconds, you can dispatch your terms directly to your customers, saving time and eliminating the hassle of physical paperwork.
Keeping track of agreements and their status is crucial. Our system provides a clear and transparent audit trail, allowing you to monitor what was agreed upon and when it happened. You can also check the progress your customer has made with signing, ensuring accountability and clarity.
Upon completion, our system automatically uploads the signed terms to your job records. This feature not only streamlines your documentation process but also provides a convenient way to confirm receipt of the signed terms, eliminating any ambiguity.
We understand that not all customers are the same. For those who may not have email access, Survey Booker has you covered. You can opt to send terms via traditional postal services and still maintain a digital record. Upload copies of paper terms in the documents tab ensuring that you have a clear overview of your agreements, regardless of the communication method.
"Survey Booker has certainly helped me to engage with clients as people like being kept in the loop at all stages of survey. So the client is informed once the survey is booked in and they can then download all their terms of engagement." "Prior to using the Survey Booker system, I was finding that I was spending almost more time on the administration side of my business rather than the actual surveying side of it. Survey Booker has helped to significantly reduce the amount of time that I spend on administration duties."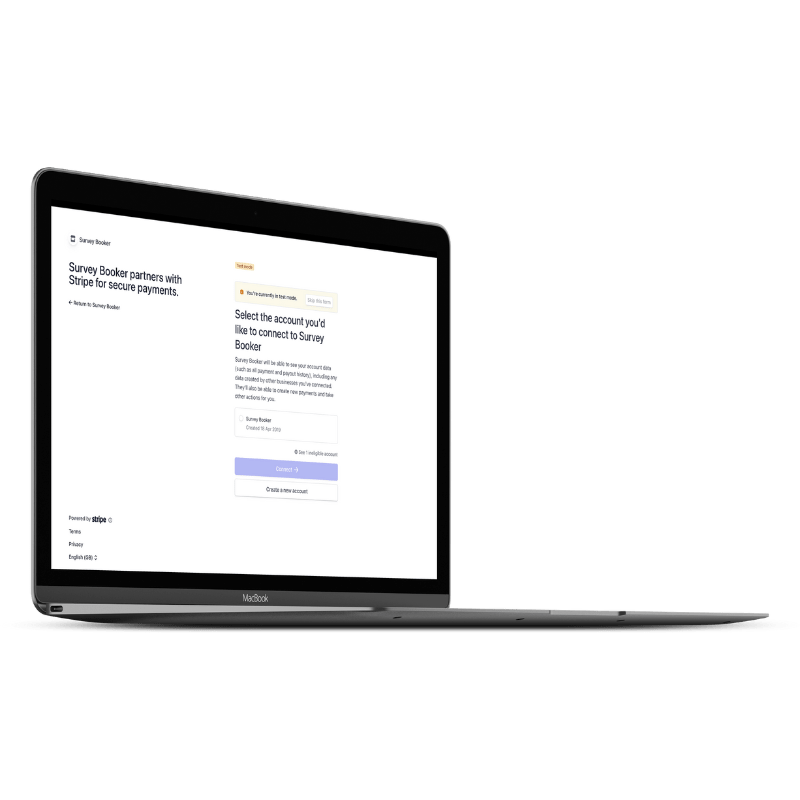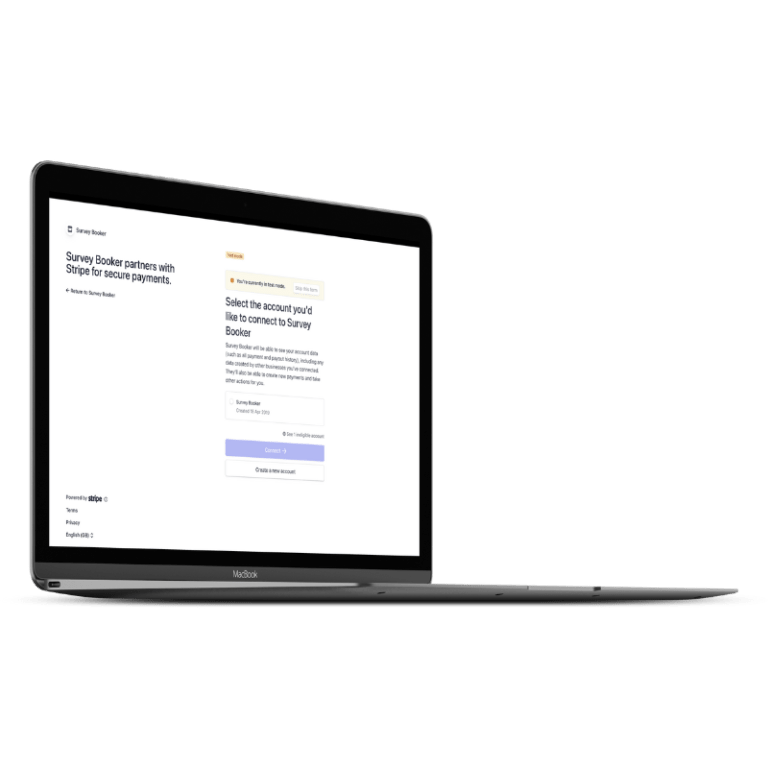 Effortless Payment Management
Survey Booker simplifies payment requests, providing flexibility for both you and your customers, whether through bank transfers or online payments. Our system seamlessly integrates with accounting software, automates payment tracking, offers manual confirmation for bank transfers, and ensures payment receipt for all methods. This creates a hassle-free, secure process, allowing you to focus on business growth.
Feel free to explore the tabs below for an in-depth look at our payment processing facilities and discover how Survey Booker can empower your financial management.
With Survey Booker, requesting payments is a straightforward process. You can initiate requests for bank transfers or online payments, accommodating various payment preferences.
We understand that maintaining accurate financial records is essential. Our system allows you to update your accounting software once payments are made or at a preferred stage within the job. This integration streamlines your financial management, reducing the risk of errors and discrepancies.
For online payments, Survey Booker automatically marks jobs as paid. This feature eliminates the need for manual intervention, ensuring that your records stay up-to-date in real-time.
In cases of bank transfers, you have the flexibility to confirm payment receipt. This step allows you to align your records with the customer's payment status, and keep your customer in the loop.
We prioritise customer confidence. Regardless of the payment method chosen, our system confirms payment receipt. This assurance assures customers that their payments have been successfully received and recorded.
Since the introduction of Survey Booker we have seen significant administration time savings in all areas. Our terms and payments are now handled automatically which has saved us approximately 35 hours a month in admin time. With the integration of different systems and automated notifications for our customers it means that every single lead is quickly touched. There is even no need for White Horse to be involved within online payments at point of sale.
Efficient Appointment Booking
Managing appointments should be a straightforward process. Here, you can easily check user availability, book appointments with ease, and keep everyone in the loop, all without the usual hassles. Our platform empowers you to regain control over your schedules.
Take a closer look by exploring the tabs below to learn more about how we can make appointment management simpler.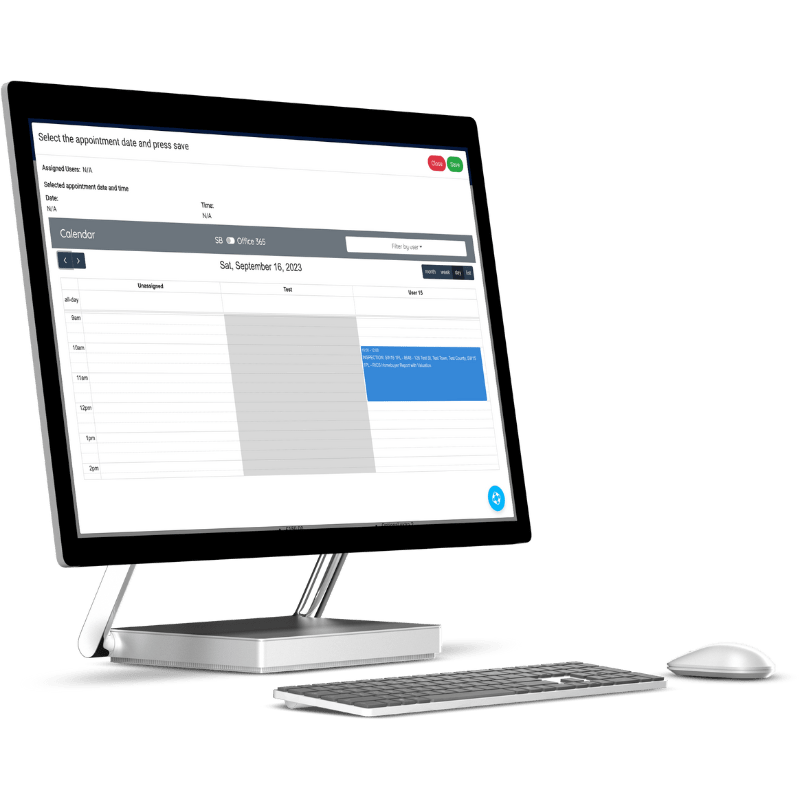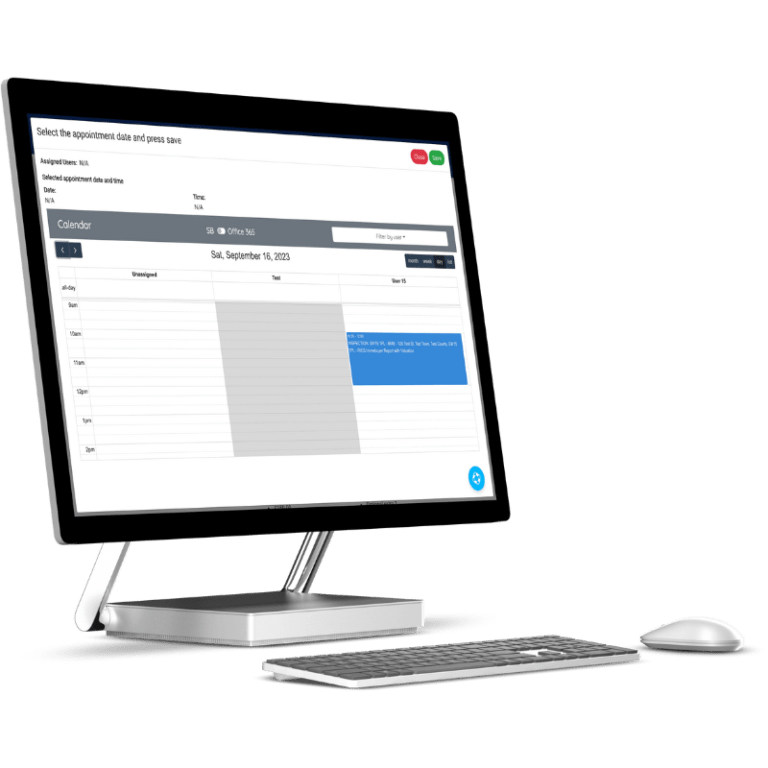 Survey Booker provides you with a clear and intuitive view of user availability. This feature allows you to quickly identify open slots, making the appointment booking process efficient and straightforward.
Effective communication is key to successful appointments. With our system, you can easily book appointments and keep customer, access contacts and referral partners in the loop. This real-time communication ensures everyone is on the same page at all times.
We understand the importance of keeping your schedules organised. Our platform automatically updates calendars, as you book, reschedule and reassign jobs ensuring that you and your team remain well-informed about upcoming appointments. This feature also extends to report writing apps, streamlining your workflows further.
Survey book has helped tremendously in consolidating all of the admin into one place. It's easily accessible, easily readable, there's notes. You don't forget anything all the way through the stages from quoting, booking, payment, terms is all there and it's not only for myself but it's for the client as well. They can see all these stages along the way and to really looks quite professional from their point of view as well.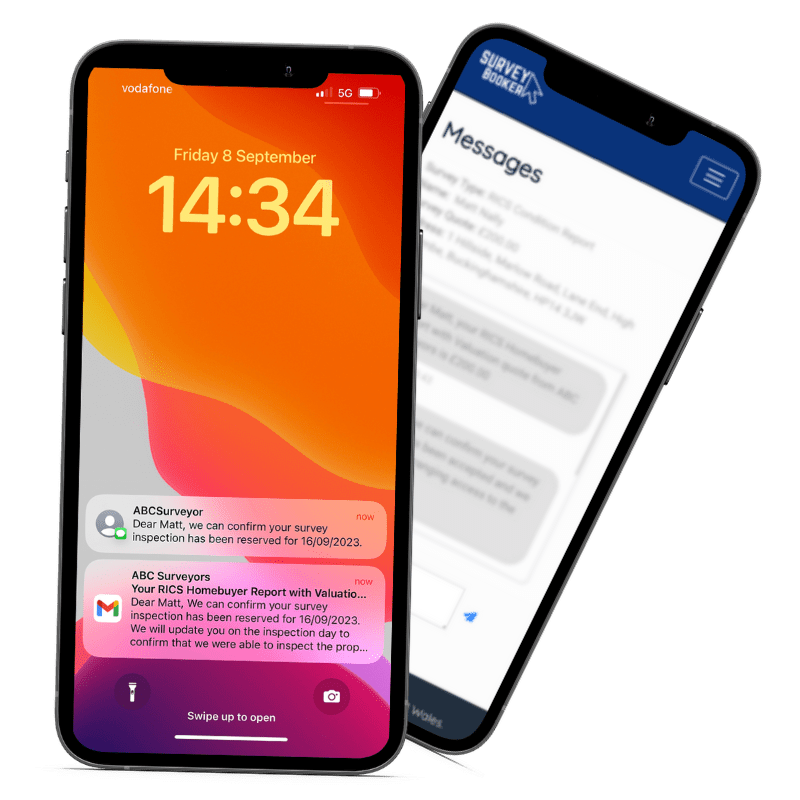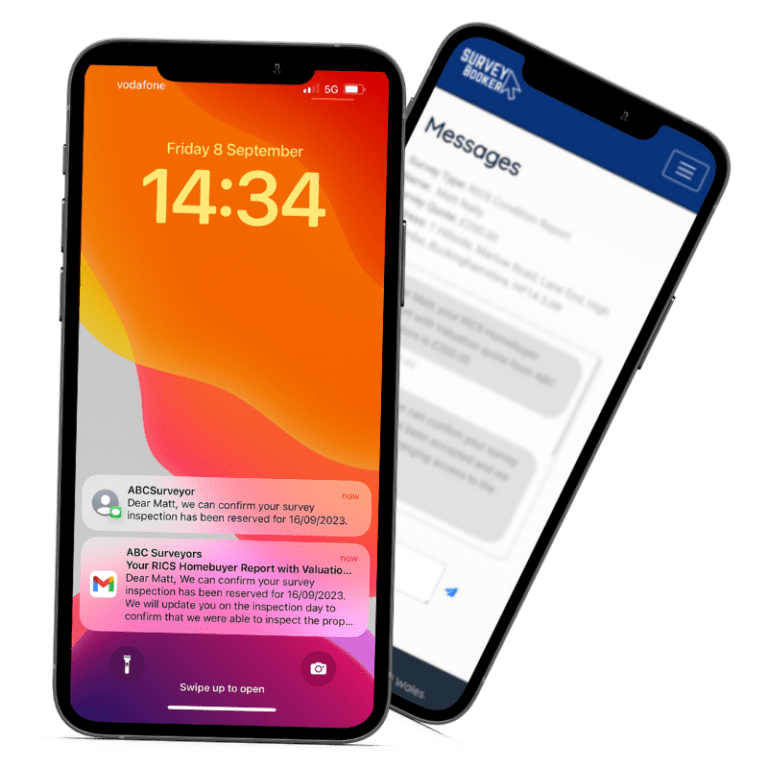 Job Updates: Keeping Customers Confident and Informed
Envision a customer journey that's not just smooth but reassuring as well. Picture a system that effortlessly keeps both you and your customers in the loop, erasing the need for those endless follow-up calls and emails. The result? Delighted customers who can relax, knowing everything is right on schedule. Our unwavering dedication to consistency means every step is dependable and expected. Notifications ensure everyone is informed and content at every step. With Survey Booker, you'll nurture trust and confidence, forging a customer experience that truly distinguishes your service and free's you up for personal contact when it really matters.
Survey Booker prioritises a seamless and consistent customer experience. Our system facilitates ongoing notifications, providing customers with regular updates on the status of their jobs ensuring that every customer enjoys a reliable and predictable journey.
We recognise the frustration that can arise from persistent follow-up calls and emails both for you and your customer. With Survey Booker, there's no need for such measures. Customers receive timely updates, reducing their need to chase communications and enhancing overall satisfaction.
Our ongoing notifications offer customers the confidence that their job is progressing as expected, fostering trust and satisfaction. You can send messages via email and SMS to update customers how you see fit. With basic updates handled, you can speak with customers when it really matters such as at the initial enquiry or report follow-up stages.
Survey Booker has also really helped us engaging with our customers and another businesses that we work with as well as our own team. Predominantly due to it being system and automation, a lot of our clients really like the fact that they can log into the portal and they can see exactly where the jobs up to but there's a there's a multitude of ways that you can communicate your clients and in the new era. You've got text messaging as well as email responses and you can log phone calls on there so you really can tailor what's the best way of speaking to your clients as well as staff being able to update jobs in real time whilst on site carrying out surveys.
Streamlined Report Submission
Survey Booker offers you the flexibility to submit reports manually or effortlessly through specialist report writing apps. What's more, it transforms your job records into a comprehensive repository, housing everything from terms and reports to notes, email history, call logs, documents, and more. This consolidation not only streamlines auditing but also simplifies customer service management. Whether you prefer manual or automated submission, Survey Booker is here to simplify and elevate your report management.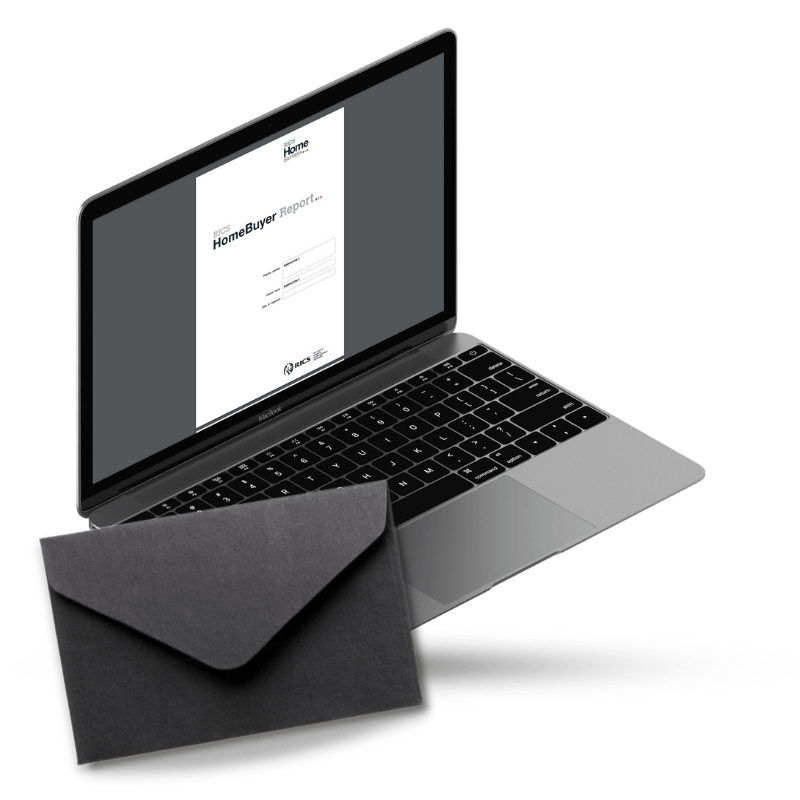 Survey Booker provides flexibility in report submission. Whether you prefer manual submission or wish to automate the process using integrated report writing apps, our platform accommodates your preferences.
Your job record becomes the central repository for critical information. This includes not only reports but also terms, notes, email history, call logs, documents, and more. This consolidation ensures that you have a comprehensive and accurate overview of every aspect of your job.
With all relevant information in one place, auditing becomes a breeze. You can easily review and verify data, fostering transparency and accuracy. Additionally, managing customer service inquiries becomes more efficient across your team, as you have immediate access to all job-related details in a click.
With the introduction of our new customer portal our customers are able to see all quotes and progress in one place. Our terms and payments are now all online and our customers can view their uploaded report via the portal rather than waiting for it to be emailed to them. Our customers can access the portal from their PCs or smart phones and have direct access to their designated sales account manager through either email or messages.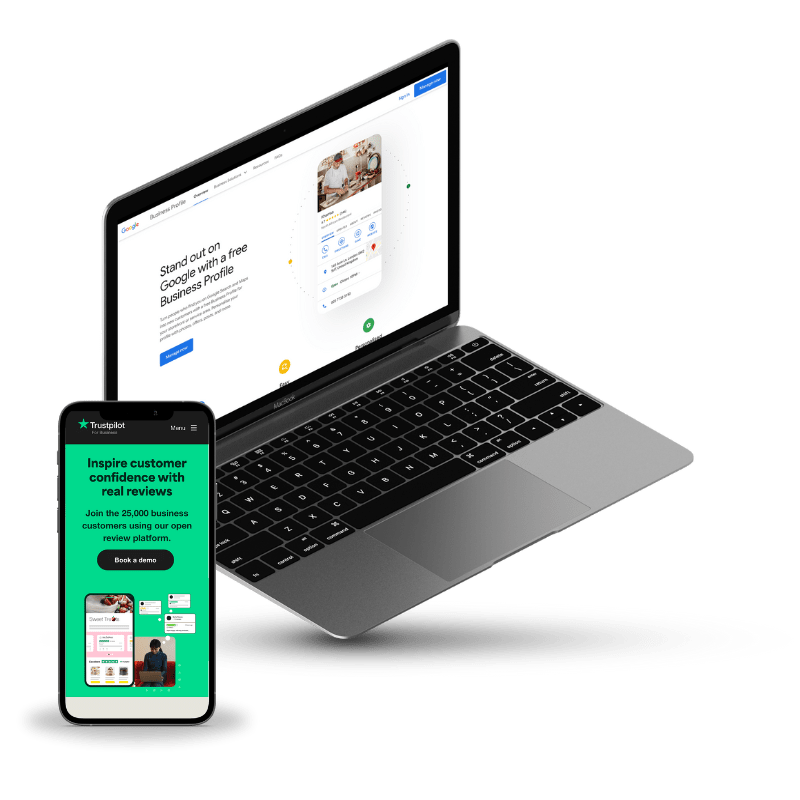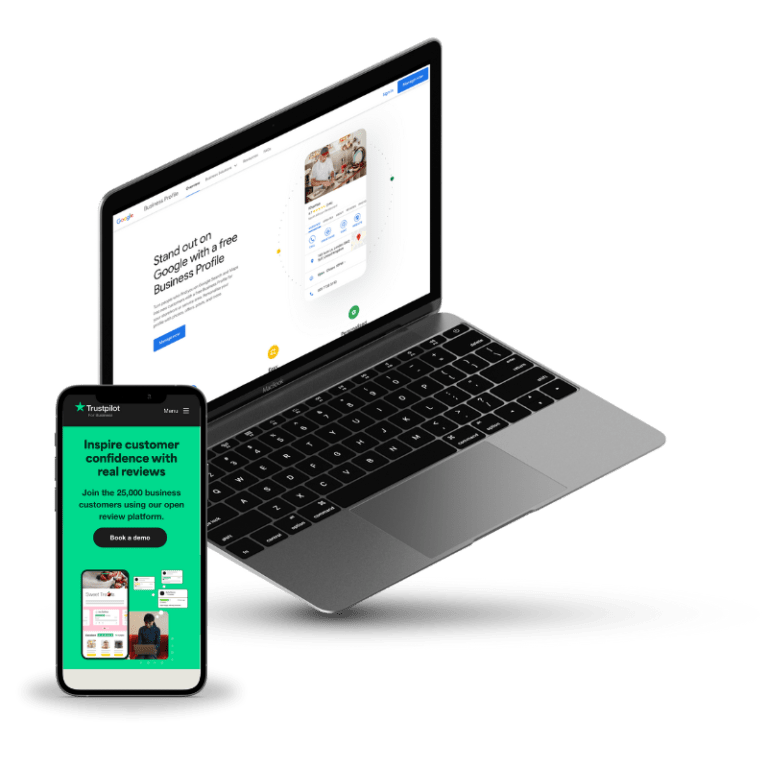 Effortless Customer Follow-Up
Proactive customer engagement is key to generating 5-star reviews. Survey Booker seamlessly empowers you to maintain connection with each customer by automating follow-up processes and addressing queries. It also simplifies review requests with platforms like Trustpilot to help you showcase the quality of your service. Crafted with precision, this system guarantees content customers, resolves concerns, and gathers valuable feedback to enhance your online presence.
Explore the tabs below to learn more about how Survey Booker can elevate your customer engagement.
Survey Booker takes the hassle out of customer follow-ups. Our system automates this process, ensuring that your customers receive timely and relevant communications. This proactive engagement demonstrates your commitment to their satisfaction and builds trust. You can tailor which updates you automate and which you handle manually.
It's vital to make sure your customers have no further questions or concerns. Our automated follow-up system provides a convenient avenue for them to voice any issues they may have encountered, allowing you to address and resolve them promptly.
Reviews are a powerful tool for enhancing your business's reputation. Survey Booker simplifies the process of requesting reviews from satisfied customers with our built-in review system. Additionally, our platform seamlessly automates review invites with platforms such as Trustpilot, making it easy for your customers to leave their feedback.
Positive reviews contribute significantly to your online presence. By actively requesting feedback and guiding customers to review platforms, Survey Booker helps boost your reputation and credibility, ultimately attracting more potential clients. 
Our system ensures that your engagement with customers doesn't end with a transaction. By maintaining an open channel of communication, you can nurture long-term relationships and repeat business.
The automation which exists within Survey Booker encourages you to maintain connection with your clients throughout the whole process from quote through survey through to completion and distribution of survey and leads you into the kind of five star reviews which we enjoy across this business. It's really important for the clients perspective that you don't just send the survey report and that's it and Survey Booker allows you to keep in contact with the client after you've delivered your service and keep that relationship going.
Empower Your Customers with a User-Friendly Portal
In today's business landscape, guaranteeing that your customers have convenient access to information and direct communication channels is paramount. Designed to supplement direct engagement from you, the portal offers your customers the flexibility to log in at their convenience to access quotes, book services, retrieve previous reports, and engage in direct, conversational interactions with your team. 
With 24/7 access to information, customers can engage with you even when you're not available helping to boost satisfaction.
Delve deeper into these features by exploring the tabs below.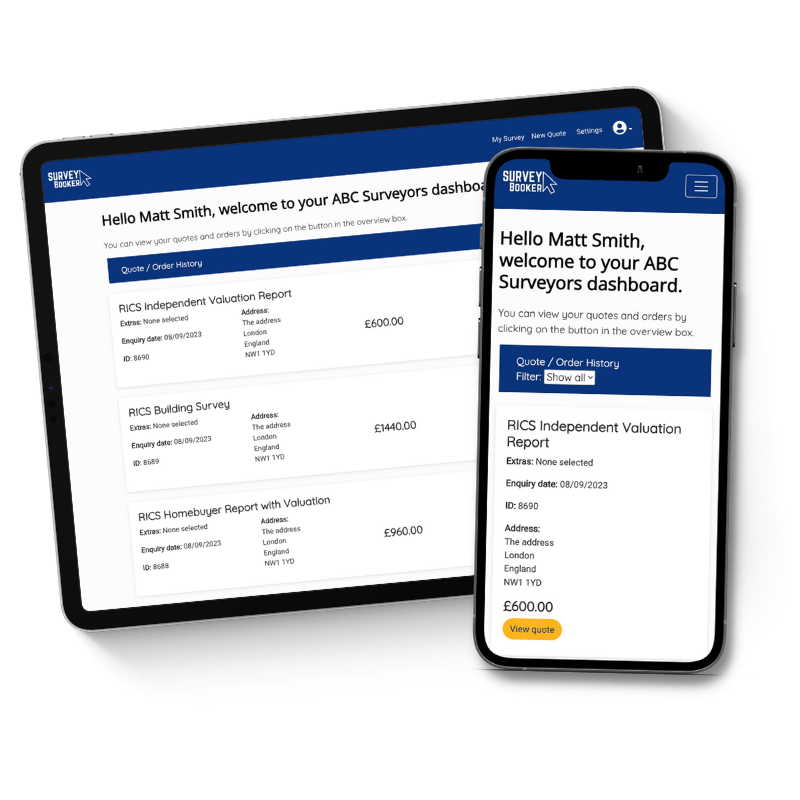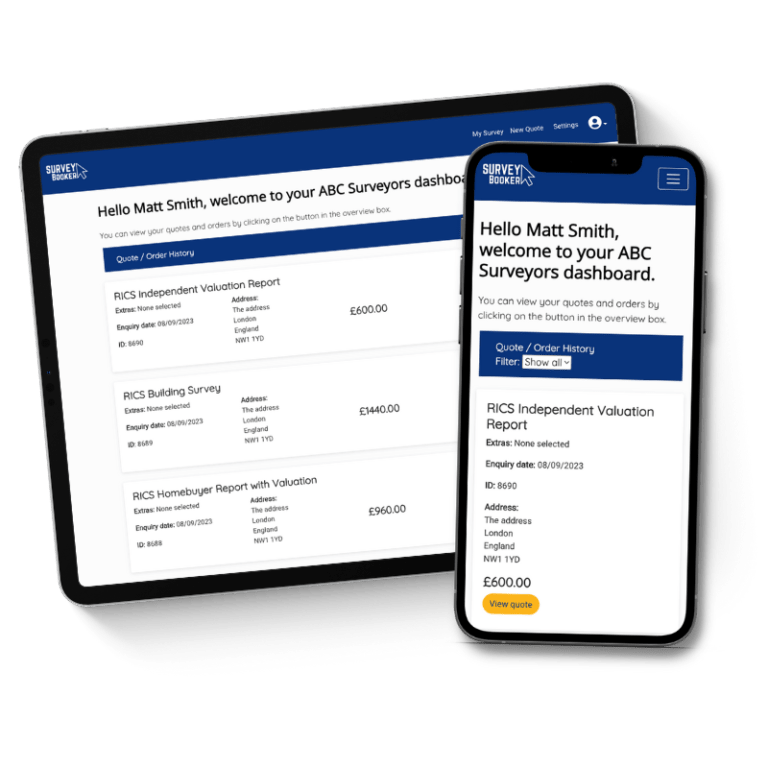 Survey Booker's portal is designed to provide customers with round-the-clock access to vital information. They can log in at their convenience to view quotes, explore available services, and access any necessary documentation even when your office is closed.
Our platform makes it easy for customers to book services with ease at a time that suits them. Whether it's instructing you on a survey or requesting a follow-up, the booking process is streamlined for their convenience.
Customers can retrieve and review previous reports at any time. This feature ensures transparency and allows them to track progress and maintain a clear overview of their history with your business. We've all struggled to find that email or wonder if things are still on track. The portal helps to remove those concerns.
Effective communication is key to exceptional customer service. Survey Booker's portal includes a messaging system that fosters more conversational and direct interactions between your team and customers. This real-time communication channel ensures that questions are answered promptly and concerns are addressed effectively.
With the introduction of our new customer portal our customers are able to see all quotes and progress in one place. Our terms and payments are now all online and our customers can view their uploaded report via the portal rather than waiting for it to be emailed to them. Our customers can access the portal from their PCs or smart phones and have direct access to their designated sales account manager through either email or messages.