Project Management for Surveyors
Manage project work with our adaptable project management system for surveyors, designed to help you keep on top of all your work in one place. 
Streamline Your Project Management
When your services involve multiple stages that go beyond the usual survey and valuation processes, our project management system is your reliable ally. Designed to accommodate custom project work.
Continue scrolling to explore our project management features tailored to handle unique job requirements.
Customise Your Projects: Tailoring Types and Stages
Define your project types and create tailored project stages to match your workflows. This allows you to effortlessly create quotes, filter information, and maintain a crystal-clear view of each project phase, streamlining your project management process.
Start by adding the types of projects your business offers. Whether it's surveys, valuations, or a custom service unique to your business, our system allows you to create and categorise project types. During the quoting process select the relevant project type so you can easily see what type of job you are working on. Set your quote stage and filter your quotes table to quickly see which leads you need to submit and which quotes you need to follow-up on to convert to instructions.
Adapt your project stages to precisely match your workflow. Our system enables you to set bespoke project stages that align with your unique processes. Assign these stages to each job record, ensuring a systematic approach to project tracking. When you need to gain insights into your project's progress, simply filter your job table by project stage. This clarity ensures you stay on top of every project phase.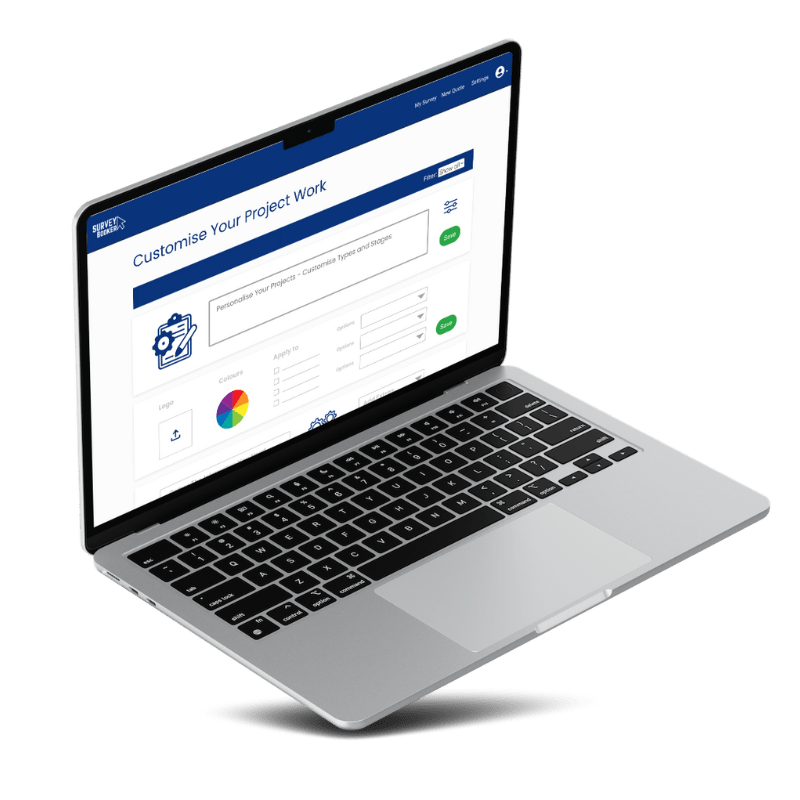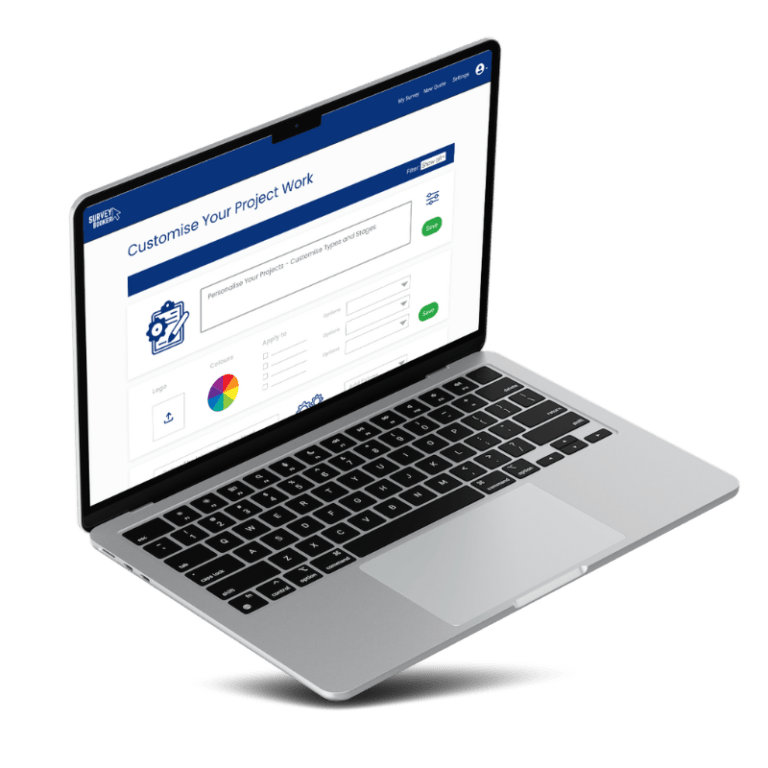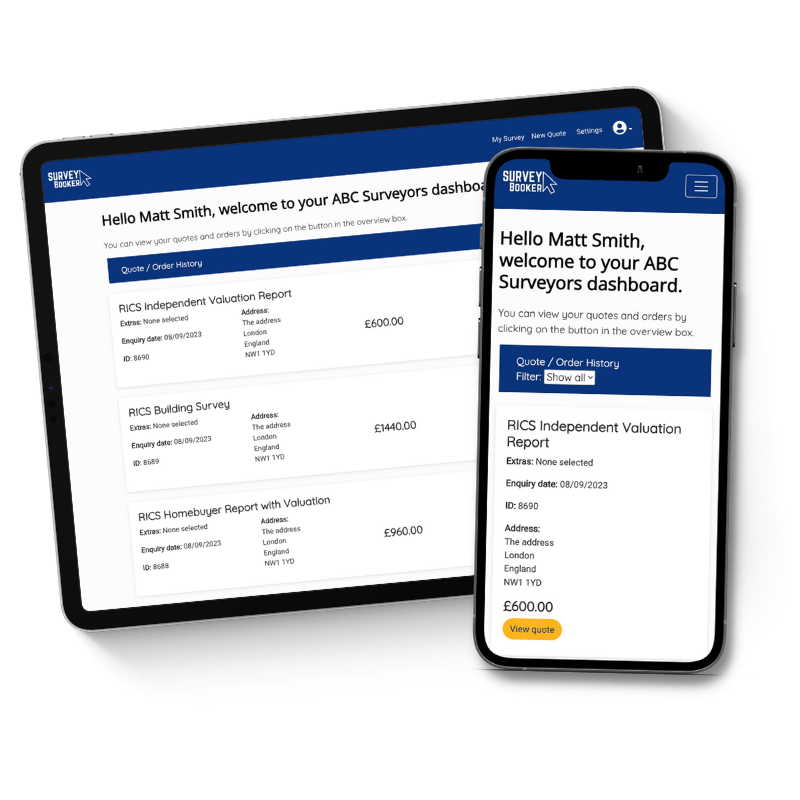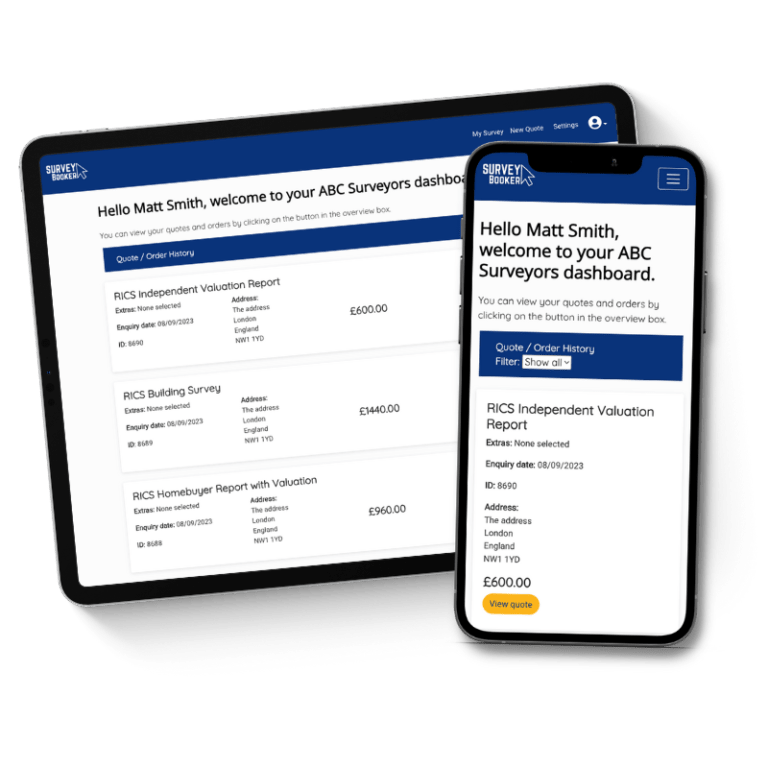 Enhanced Engagement: Streamlined Projects for Seamless Results
Elevate your client interactions through the customer portal, allowing different contacts to access project quotes. Simplify project oversight by effortlessly assigning team members and handling documents, including terms for signing. You can also integrate with report-writing software for added convenience when required.
Admin and Communications: Elevating Project Transparency
Project management records help you to manage your projects, team and customer through a number of built-in features. Take a look at the tools available below helping to keep your projects on track at each stage.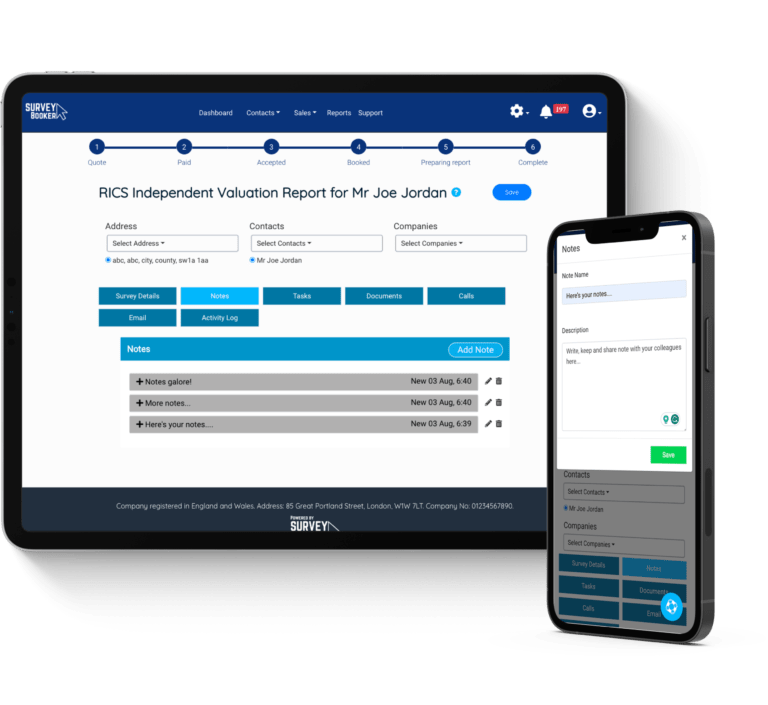 Assign team members to different projects whether they are in sales or surveying with ease. This simplifies the project journey from initial tendering to successful completion, ensuring everyone is on the same page and no key requests are missed throughout the process.
Connect with your clients by assigning different contacts to your project records. This empowers them with direct access to quotes. Additionally, the ability to share documents ensures effortless tracking of your ongoing relationship throughout the project, promoting transparency and trust.
 Imagine the power of having all critical project information in one place, accessible at your fingertips. This feature not only streamlines communication but also facilitates regulatory compliance and provides an unmatched level of customer service. Store notes from initial project quoting through to completion. 
Efficiency is key in project management, and our task reminders feature is your personal productivity booster. Say goodbye to missed deadlines. Setting reminders for important milestones is a breeze, ensuring you're always on top of your game. Keep an eye on task deadlines effortlessly through your tasks table, providing you with a clear, visual overview of your project's progress. 
Say goodbye to cumbersome paperwork. Send and securely store project terms for signing, providing a clear record of agreed-upon project scopes. You can also store all your project documents under the documents tab so you've got all the information you need in one place.
Our email logging helps you keep track of everything discussed from project tendering to execution. It's the bridge that simplifies the communication process, allowing you to seamlessly send and log emails. This level of transparency not only strengthens client relationships but also ensures that nothing is ever lost in translation.
Explore our Array of Business-Boosting Features
Experience the power of Survey Booker's comprehensive suite of time-saving tools and features. Each feature is specially designed to empower you with the resources you need to optimise your workflow, enhance customer interactions, and much more. Click through our business-boosting features below to learn more.
Small business features
Large business features
Survey Booker has enabled us to create a managed flow of leads from a range of different sources. This has in turn led to a lot less manual work for the team, and created a smoother customer journey. Our sales account managers now have more time for direct sales, and our customers are able to see updates in their customer portal without having to email or phone our team and wait for a response.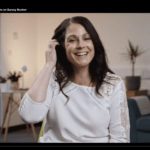 Luisa Desousa
White Horse Surveyors