Survey Booker for Individuals and Small Businesses
Unlock your potential with Survey Booker for individuals and small businesses. Automate, integrate, streamline, and grow with our comprehensive survey, valuation and project management facilities. Work smart, not hard and achieve more than you thought was possible. 
We help small business to better their best!
Whether you're a solopreneur looking to work smarter or an emerging small business aiming to expand your team, Survey Booker provides a wide range of tools to aid you in accomplishing your tasks. Rest easy at night, knowing that everything is taken care of, freeing up your time to spend with your family or carrying out more surveys. 
Wrap up your day whenever you choose, as Survey Booker offers comprehensive survey management facilities that allow you to work smart, not hard. Keep scrolling to discover more about what we have to offer.
Work smarter and take back time
There's always something else to do and a task to remember. Streamline your processes to invest your time on what really matters to you.
Compliance management
Compliance is part of the parcel but it shouldn't take up time. Log everything you need automatically so you can focus on adding value.
Make informed decisions
How well do you know your conversion rates by job, location and source? Find out with a click.
Features to help small businesses blossom
Take advantage of a whole host of features designed to help your small business achieve its goals!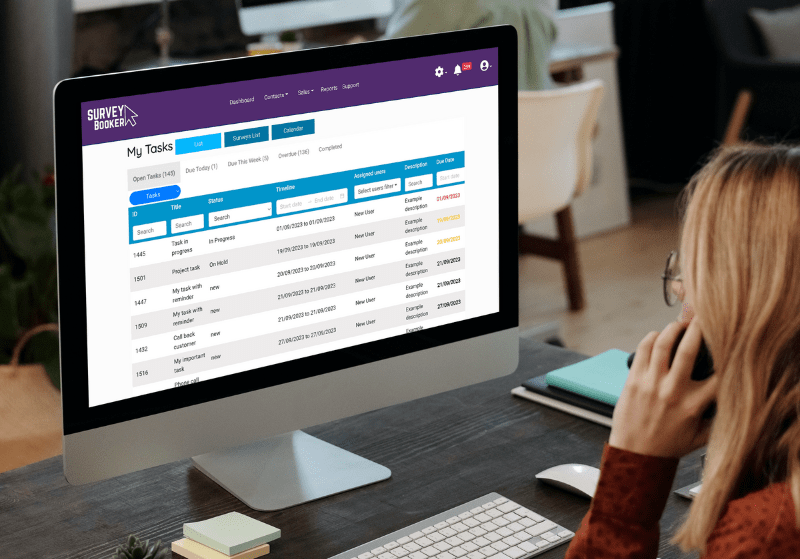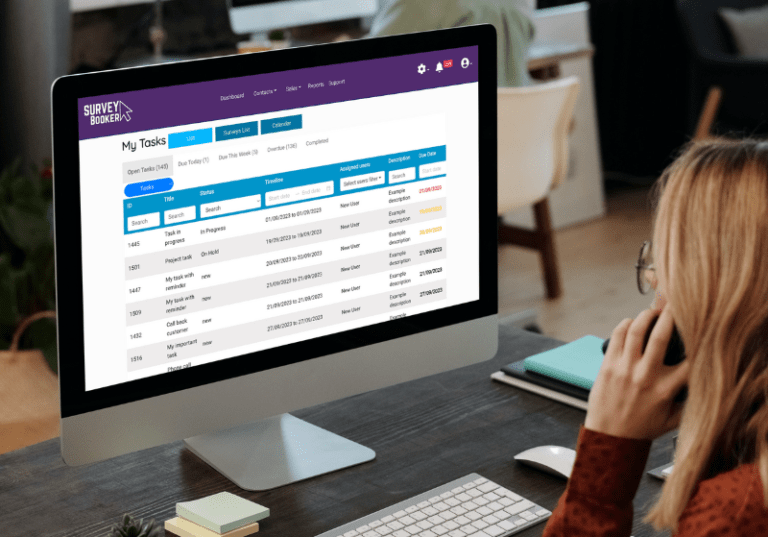 automated
Admin
Automate all your survey and valuation admin so you and your team can focus on adding value to customers.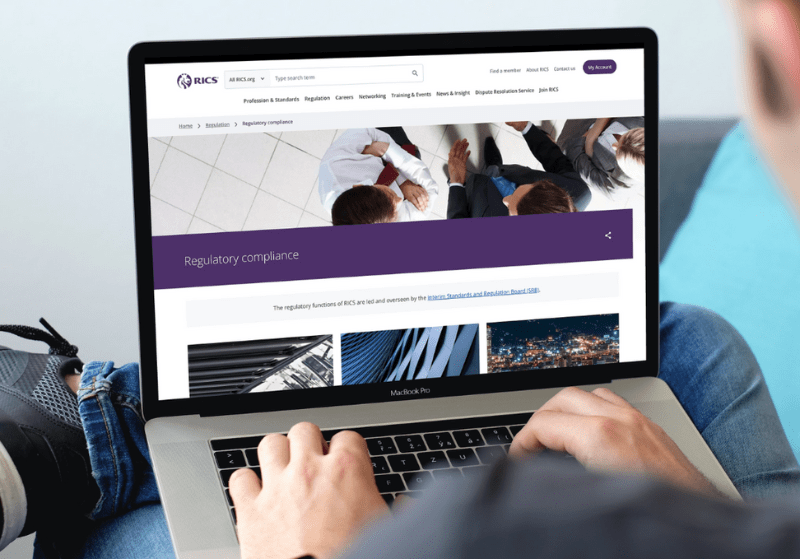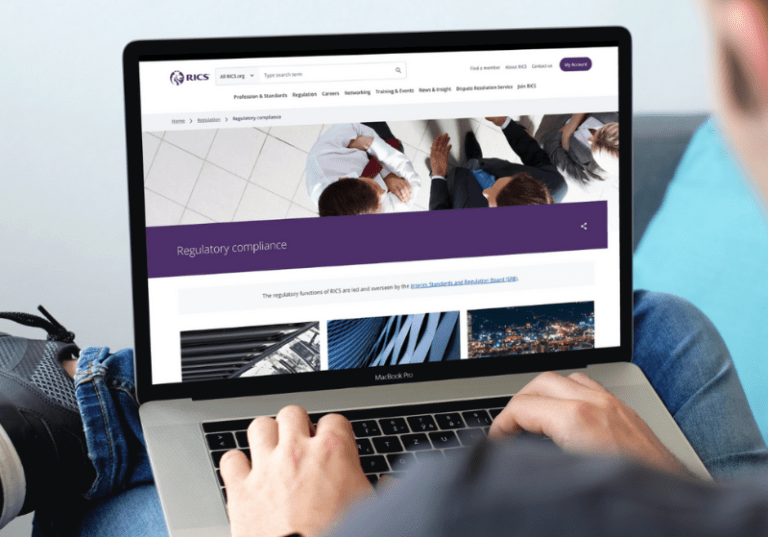 Simplified
Compliance
Automatically log e-signed terms, notes, emails and more ready for any audit regardless of who is dealing with it.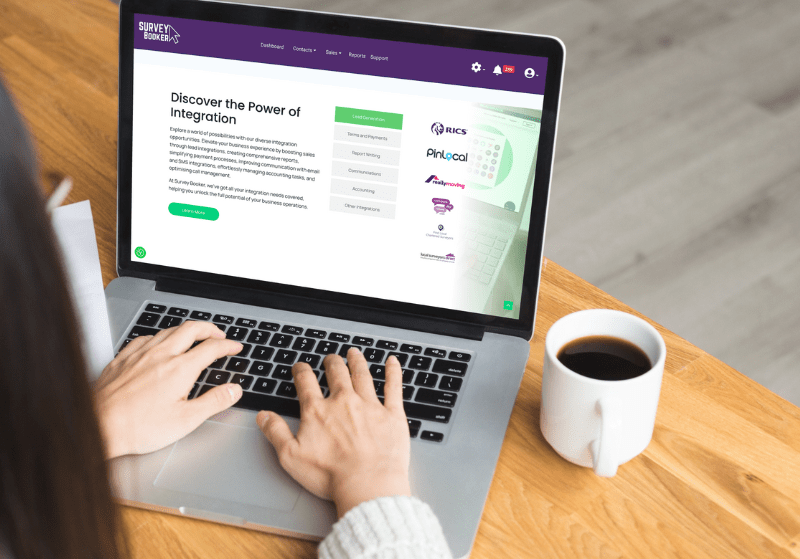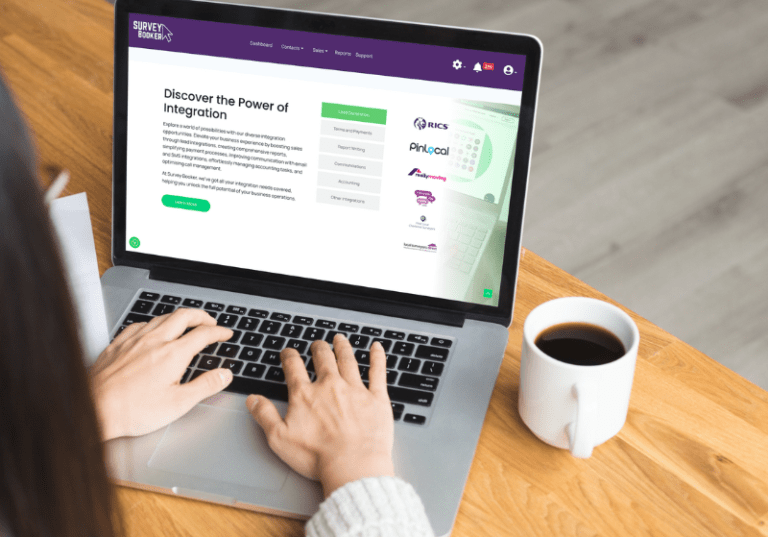 Intuitive
Integrations
Integrate your systems together so you can focus on doing what matters instead of data entry.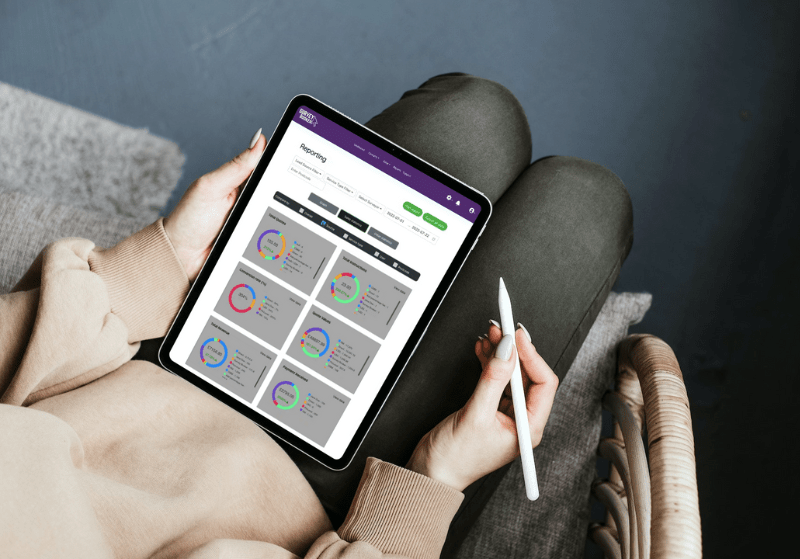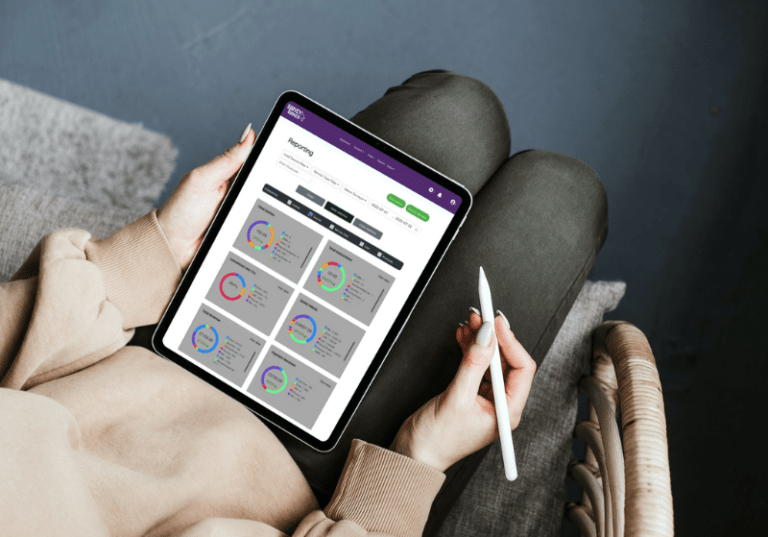 Rapid
Reporting
Easily review how your business is performing so you can double down on what's driving your success.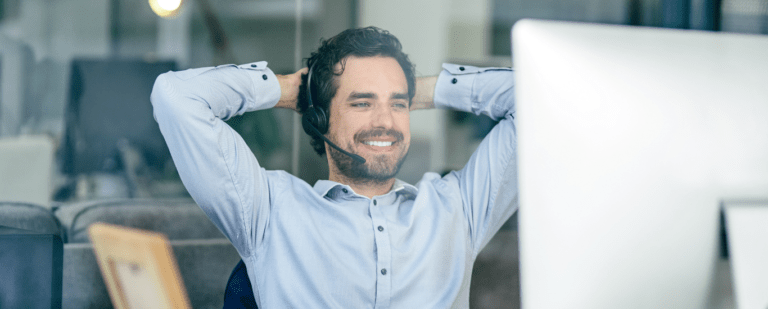 "Since using Survey Booker, we have seen our business grow year on year on, but essentially the benefits of Survey Booker have meant that our systems are streamlined. Administration time is reduced to as low as possible and it just makes us look so much more professional above and beyond our other competitors."
"Pre Survey Booker we were probably working seven o'clock most evenings before we finished up with paperwork and admin. After Survey Booker, I finish five o'clock most days and don't work weekends. That's why I did it. I did it to get time. I wanted my life balance back and spend a little time with family."
"I've saved so much time on admin, it's unreal. I can put my feet up and have a cup of tea while the system does the majority of the legwork for me. Before I went to sleep thinking have I rung this client, have I had this payment, I need to do this tomorrow, I need to do that. None of that anymore. I just log in, I see exactly where I'm at on the stages and just respond accordingly."
Survey and Valuation workflow
Our survey and valuation workflows help you to provide a consistent experience for every customer and allow you to focus on adding value instead of admin and compliance. No matter how busy you are you can ensure you provide a consistent, quality customer experience.  
Simply focus on your customers and on carrying out surveys knowing everything is in place.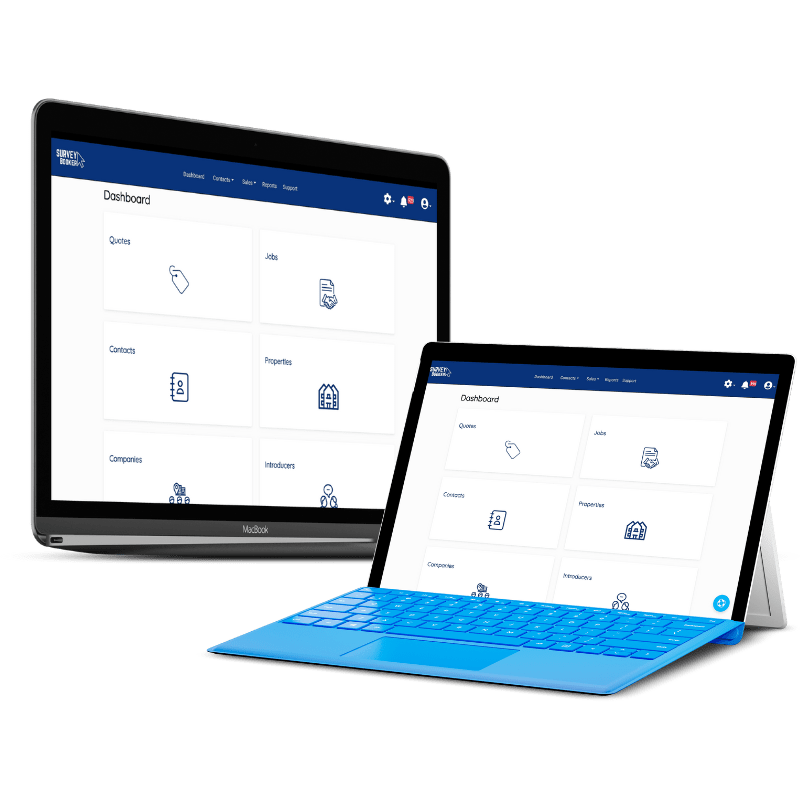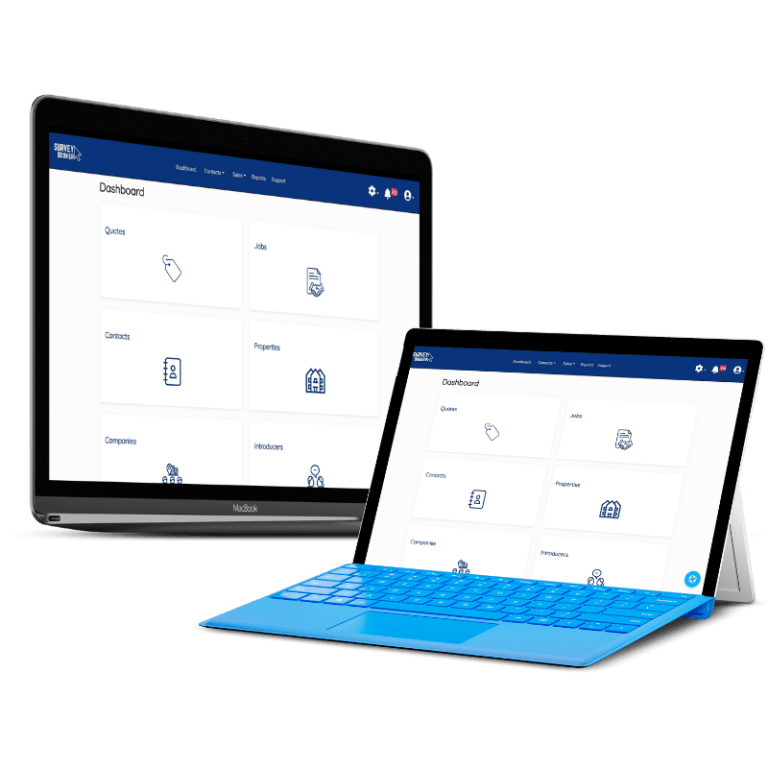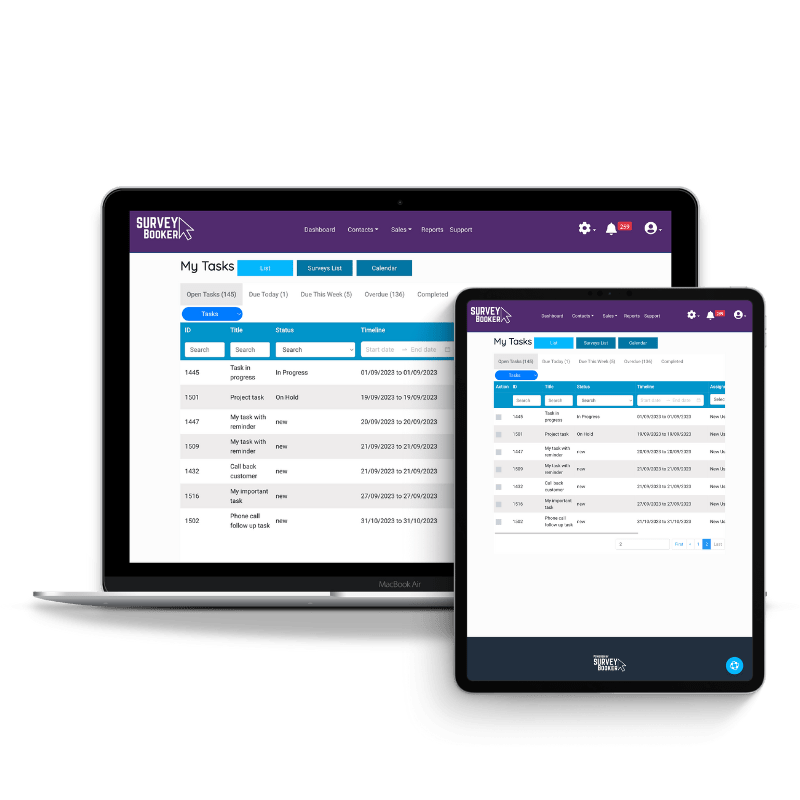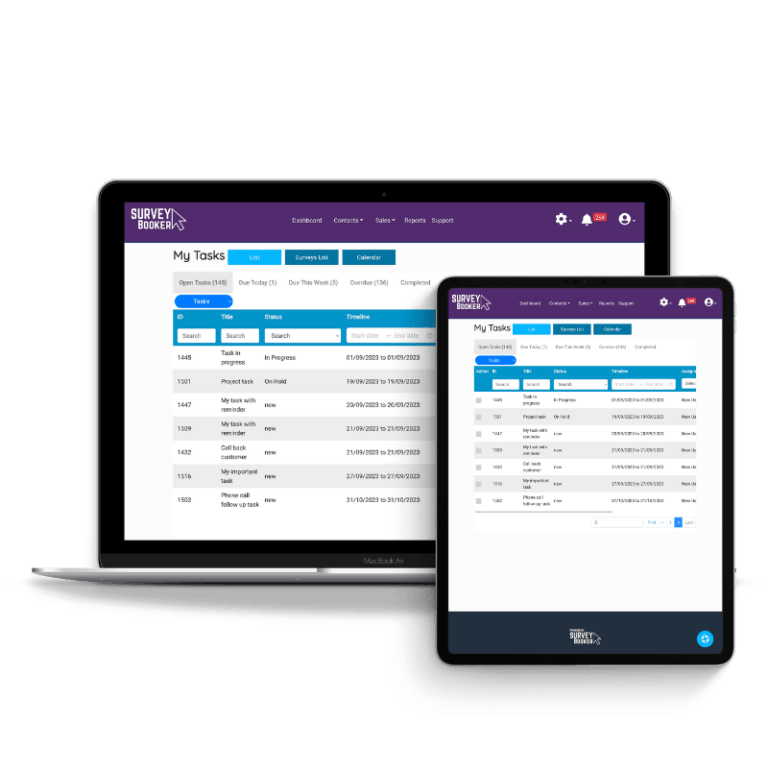 Manage projects with ease
Taking on jobs that don't fit the standard survey and valuation flow? Not a problem. We can help you manage all of your different job types in one place and ensure they're all up to date.
A central hub for your team, customers and referral partners
A CRM and survey management system shouldn't just keep you in the loop. Survey Booker provides you the option to be transparent and engage with your customers and referral partners through a branded portal. Support all your stakeholders and provide transparency and a great experience.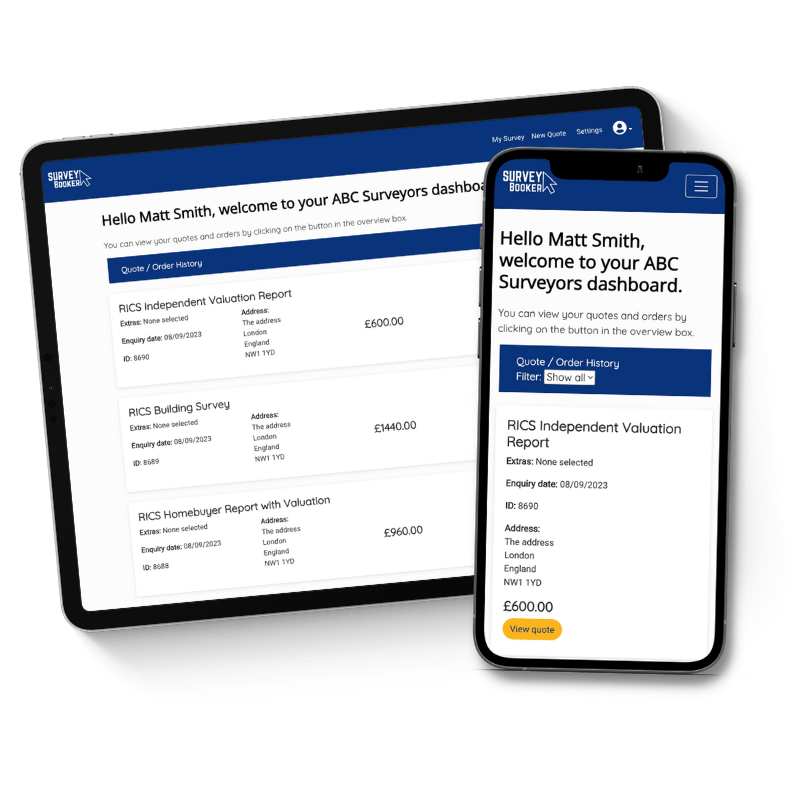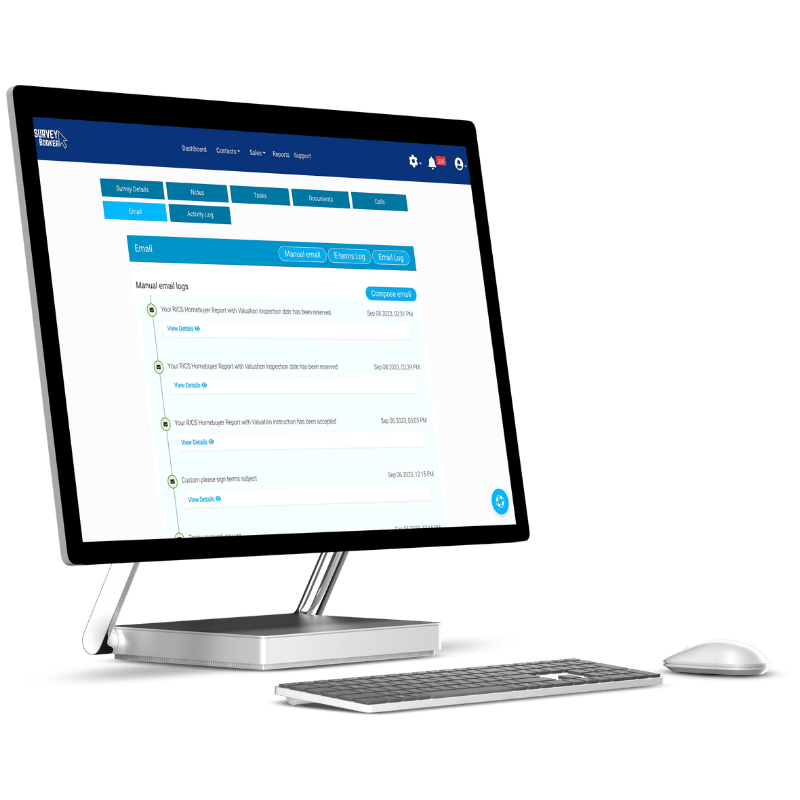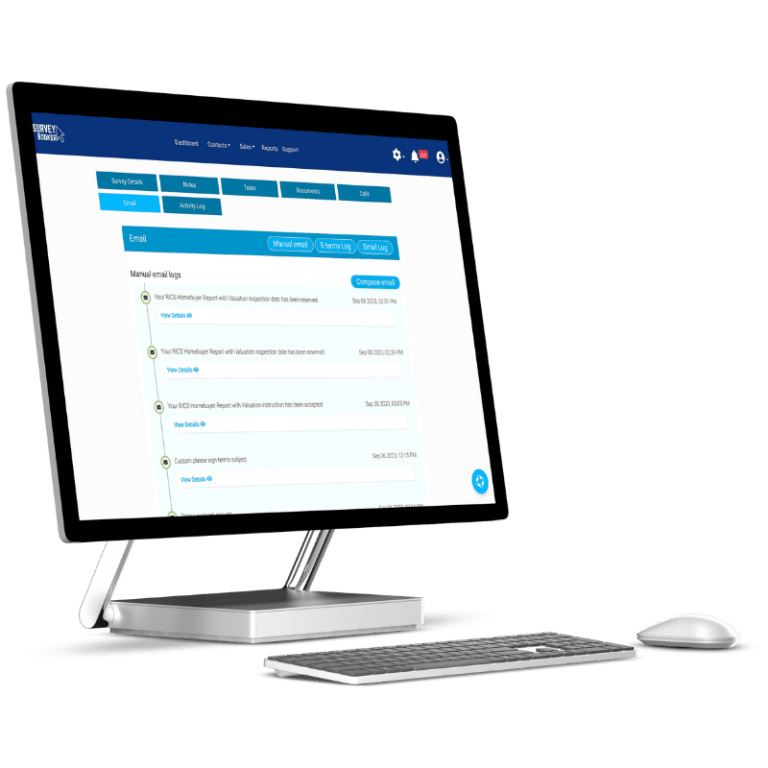 A single source of truth for every job you do
Survey Booker helps you to log everything you need to easily manage customer queries or conduct an audit. No more time wasted filing data, saving information or asking team members for updates on what is going on. Focus your time on tasks that add value whilst sleeping well at night knowing everything is in place.
Get started with Survey Booker
We understand that you're busy and you want to hit the ground running. That's why we have a comprehensive onboarding process to help you get started!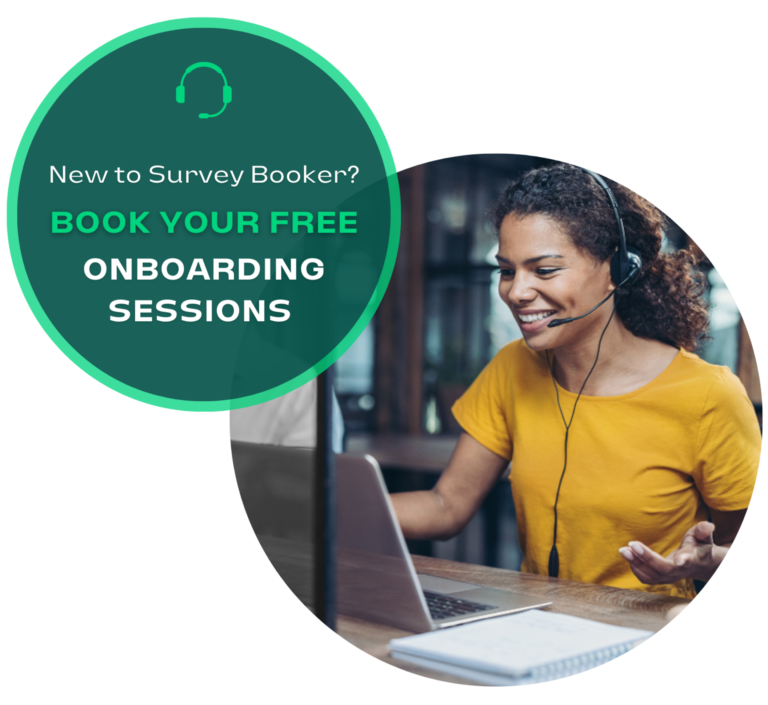 Frequently Asked Questions
Do I need sales and survey management software for my startup or small business?
Survey Booker is designed to help free you up from admin, compliance and manual tasks that steal your time from sales, marketing and growing your business. By investing a small amount in your software, you can sleep well at night knowing every customer is up to date and your compliance is in place. Time is precious. Increase your capacity and grow more effectively.
How does the start up offer work?
The start up offer allows you to pay a discounted rate for your first 6 months. We know as you're getting started, you're building up your pipeline and we want to help support you from start up to success. This gives you time to grow and establish yourself before moving to the normal rate. You'll get all the same features!
How will sales and survey management software help me scale?
Our software will help you save up to 85% of your time on admin. That's what our customers tell us. This means you can respond and speak with customers more quickly, convert leads more effectively and establish your reputation versus doing everything manually. Our system is designed to help you achieve what you want more quickly by giving you the time to focus on adding value to your business instead of being stuck in it.
What happens when I want to add in new team members?
The Plus plan comes with 3 users as standard. As you scale and you want to take on an office team member to handle enquiries and bookings or you take on new surveyors, you can easily allocate jobs and see who is in charge of what. As your team grows, your processes remain consistent so your customers continue to get the same great service regardless of who is working on it.
What is the benefit of sales and survey management software?
Efficiency, consistency and scalability. Survey Booker is designed to save you significant amounts of time on admin and provide a consistent experience to every customer, no matter how busy you get. Compliance is built into the process helping you to ensure you've ticked every box for every job reducing your risk of complaints. Because all the admin and compliance is taken care of, you can focus on achieving your goals instead of copying, pasting and filing.
Is sales software tax deductible?
Yes, any professional software that you need to run your business, like online sales and survey management software, is tax-deductible. We're on hand throughout to make sure all your questions are answered. You'll also have access to support guides and tours for every aspect of the system.
Why is sales and survey management software important?
Sales and survey management software is important because it helps you manage compliance with industry standards and provide a consistent experience for every customer you work with. This is key for generating positive reviews from every job you do and your business success.
Will software make me impersonal?
Quite the opposite! Automation of basic admin tasks means you have more time available to speak with customers and you can respond more quickly. This means you can provide a more personal service. If you're busy filling in data, filing documents and handling basic job updates then you aren't speaking with your customers.
What are the benefits of working in the cloud?
Using our cloud software means you can access your data from any device, from anywhere. This means you can access customer requests, emails, booking details and more whilst out on site or when you're back in the office. It also means you can add new leads, update a job status and more whilst you're out and about instead of needing to make a note to add updates later.
Can I just start with a spreadsheet?
Spreadsheets are easy to set up but have a lot of downsides. They won't offer automation, and require you to put a lot of effort in to keep them up to date. It's easy to miss things and they don't link all the dots. By starting as you mean to go on, you'll have every job you've worked on in one place, making it easier to see how your performance has improved over time and helping you prevent mistakes in the key stages of your business. Instead of spending time managing a spreadsheet, our software enables you to focus on where you add value in your business.
Explore our Array of Business-Boosting Features
Experience the power of Survey Booker's comprehensive suite of time-saving tools and features. Each feature can be used to optimise your workflow, enhance customer interactions, and much more. Click through our business-boosting features for small businesses below to learn more.