Get Customers with PinLocal
Connect PinLocal to have new leads automatically sent from your PinLocal account into your Survey Booker account. No manual data entry, and welcome emails sent out immediately, 24/7 helping you to convert more leads and keep leads warm.
How We Generate Surveying Customers For Your Business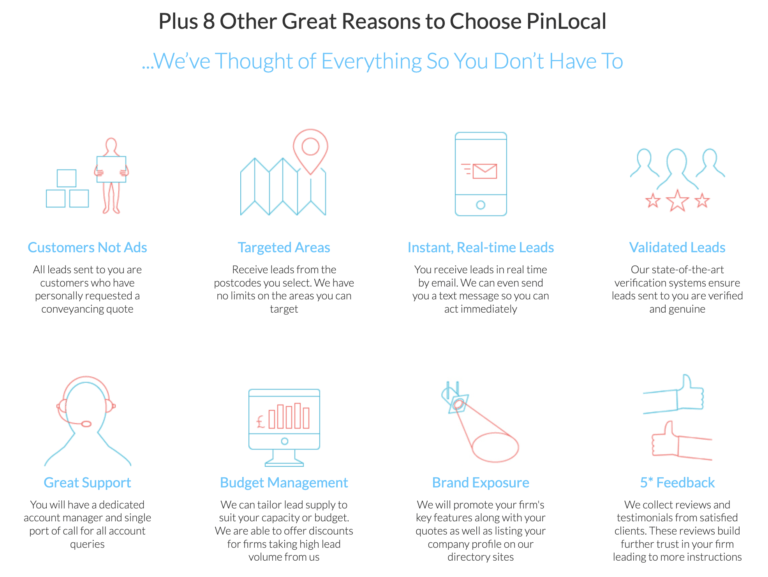 How it works with Survey Booker
Account set up is really easy. Provide us your 'webhook' listed in your integration settings and we'll provide you an 'API key' to save there. Once that's done, each new PinLocal lead will save straight to your Survey Booker account.
Respond faster: each lead is saved to your Survey Booker account and can be immediately sent your welcome email and/or SMS so that they've got information about you until you can get in touch.
Follow-up: lead nurture can be used to follow up with customers who've had a quote but not yet started a booking.
Convert: customers can easily start a booking at any time so you can see which leads are warmest to contact first.
For current pricing, please click here to contact PinLocal.
Register today and you will receive:
10 Free Leads
Get Customers Today
Target Your Areas
Control Your Budget
Cost-Effective
Marketing
Fair Credit Policy
No Minimum Term
Cancel Any Time
Special offer for Survey Booker customers:
Register as a Survey Booker customer and will provide you with our 'Conversion Optimisation Clinic' once you become a paying customer. In this clinic, we'll help you review how you can convert more of your leads to earn more from your marketing spend.
Frequently asked questions
How many surveyors will I be competing with?
Our system only displays 4 quotes to a client at a time and selects firms based on their selected postcodes. You therefore only ever compete with 3 other firms.
How many instructions can I expect to win?
Once we have sent you a lead that matches your criteria, winning the work is down to you. We will coach you and share best practice on winning instructions. Our best firms convert up to 15% of our leads, with the average conversion rate being 10%.
Can I change my budget or locations?
You are in complete control of your account with PinLocal, including the amount of money you spend and the areas you target. We have no limits to the volume of leads or areas you want to cover.
What does a lead notification look like?
We provide you with full contact details of the lead submitted along with a link to the quote we sent to the client for your firm. You will then have everything you need to contact the customer and send your own bespoke quote. To see a sample lead notification click here. You leads will also feed straight into Survey Booker and look like your direct leads to showing PinLocal as the source.
How many leads will you send me?
We can turn the volume up if you need more volume and also set daily or weekly caps on your account to keep things manageable.
What about fake or invalid leads?
All of our leads go through a 5-step verification process to ensure quality. However, if an invalid or fake lead does come through to you, we have a fair credit policy to ensure those leads are replaced for free.
How do the free leads work?
We offer 10 free leads for new companies. Simple! You get to test leads in 5 postcode areas with no commitment necessary. Just register your details, choose your post codes and your account manager will be in touch to get you started right away!