We've talked previously about the sales funnel. You add as many people at the top of the funnel as possible. At each stage of the sales process you have a conversion rate where some prospects move forward and some move away. Eventually some convert into sales.
You will never convert 100% of your leads. Your business cannot be everything to everyone. For example some people care only about price. But others are put off by a cheap price as a sign of poor quality. This is just one example. However, if you are failing to convert customers that are the right customers for your business you have leaks in your sales funnel.
The quality of lead management and your response times to customers can be one of the biggest causes of leaks in your sales funnel. A poor lead management setup and response time to sales enquiries results in an unnecessary loss of sales – leads that you should have been able to convert.
A sales lead is like gold. Having converted web traffic, a referral relationship or online advert into a lead is a success. But surprisingly despite the difficulty and cost of generating leads, many people don't place enough value on them. To give that context:
"For every $92 spent on generating traffic and getting customers, only $1 is spent on converting these customers" (Hostingfacts.com)
How do we ensure that we are getting the most out of sales enquiries and ensure we have the highest sales conversion rate we can? There are two core factors – response times and nurturing leads.
Response Times
We've said it many times before in our other posts but the single biggest thing you can do to improve your sales conversion rates is respond to customer enquiries faster.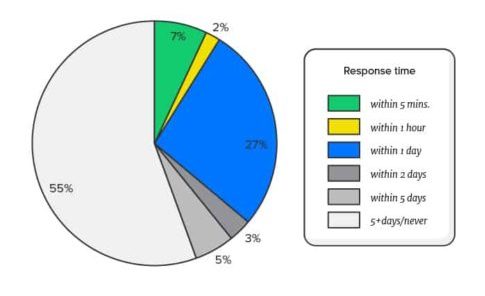 What are the statistics?
Drift did a study where they contacted 433 companies. They measured how long it took each one to respond to the enquiry made. 32 companies (7%) responded within 5 minutes. But at the other end of the spectrum 240 companies (55%) took 5+ days to respond or didn't respond at all. Approximately 30% responded within a day.
Have you ever measured how long you take to respond to each lead?
Why does it matter?
Response times have the biggest impact on your ability to qualify and convert a lead. Here are some stats from Lead Connect:
Sales conversions are 391% higher in the first minute
If you take longer than 5 Minutes to respond to an enquiry there is an 80% decrease in lead qualification
78% of customers buy from the first responder
There are two key factors that influence this:
Firstly, when the customer makes their enquiry they are generally in a 'buying mood'. They are ready to deal with getting this task sorted at the time of their enquiry. Therefore, if you can respond straight away you will be able to speak to the customer whilst they are still in the headspace of discussing this topic. As time goes by, your lead is busy dealing with other tasks.
The second factor, if you're not first then you're not new. The first surveyor that calls the customer can answer all their questions, explain everything about different survey types, how the process works, the benefits of a survey… Once you're the second, third, or fourth surveyor to make contact with the customer, it becomes very difficult to say something new. New information provides value, old information doesn't.
How to respond faster
This is all easy to understand but there are practical issues with responding straight away to a customer. Enquiries may come out of office hours when you are not able to respond or you might be busy out on a survey, driving or writing up a report. So, how do you improve those all important lead times?
Automation to buy time – when a customer makes an enquiry you can automate responses to provide immediate value. If someone enquiries about a Homebuyer Report, you can provide an automatic email response with full details about your service as well as about the best time to call you. This could include a call scheduling link so they can schedule a time to speak to you. Whilst you may not be the first to call you've added value straight away and allowed them to arrange a time to speak with you at a time convenient for you both.
Live chat – if you're on site it's not always easy to take a call. You may be able to respond to messages though. It can also be a great tool for anyone in the office. Individuals can generally handle a couple of chats at one time as you can respond to one customer as the others write replies. This cannot be done on a call. Many customers also avoid making a call but equally don't want to email as it feels slow (we all like instant gratification).
Teams – a final option is to have an office team dealing with all your enquiries. This may seem like an option only for the larger firms. However, this can be setup even as a one man. There are individuals or companies out there that will manage your survey enquiries on a success basis. They take a percentage for converting leads into sales. This can more than pay for itself by allowing you to convert more leads than you otherwise would have.
Improving Interactions with the Customer
Once you are responding fast enough the two most important factors are tone and knowing your proposition.
Proposition
You are at a conference for surveyors. A customer walks in and says they would like a survey (it's an unlikely scenario but go with it). If you were speaking to the customer, what would you say to explain what makes your service different and why you'd provide more value than the others?
Whilst customers don't meet you this way, they are speaking to other surveyors and you do need to pitch your offer.
You need to make it clear to the customer why you add value if you want the customer to understand why they should choose you.
Tone
Body language is a major part of communication. However, when your sales are via phone or email, tone replaces the entire body language element that normally exists. A short, gruff tone will be off putting compared to a relaxed, open one. The customer has to feel comfortable talking to you in order to build trust. If you don't build trust, the customer will not go ahead.
A common sales tip is to stand up and walk around as you speak on the phone. Sitting and slouching makes you sound less positive. If you are busy and stressed dealing with different tasks you can politely ask to schedule a call for slightly later that day where you can give them the time they need rather than wasting 5 minutes of your (and their) time.
Nurture of leads
Not all people who enquire now are ready to buy now. Some have left it to the last minute and will pay for express turnaround. But there are as many who will search a month early to budget and be ready to press the button when they want to go ahead.
Some customers you'll get hold of on the first attempt. Others will take several attempts. Everyone is busy with different things. It can take 8 attempts to get hold of a prospect on average. With most salespeople giving up before this.
Whether you've spoken and the lead will be ready in a month, or you couldn't make contact when you tried, how do you keep leads warm rather than just ignoring them after first contact.
Automation can allow you to nurture leads by email at different points after the customer has enquired (unless they have paid). Once set up, you don't need to do any extra work but your customers are sent additional information about your service and you are kept at the forefront of their mind. If you have a standard daily structure, you can provide optimum times for customers to give you a call if they would like further information so they don't need to play phone roulette!
GDPR is important of course. Make it clear that when the customer makes their enquiry they are opting in to receive follow ups from you. And at the same time, make it easy for them to unsubscribe from these emails if they no longer wish to hear from you.
Summary
It is important to optimise earlier processes such as maximising traffic to your website. But you don't want to undo all your good work by having a leaky sales funnel and losing sales that you really should have converted.
Time is the single biggest factor affecting your conversion rates so consider how you can either make adjustments to respond faster by phone or buy yourself time to speak later.
And whether you manage to speak to your leads or not, make sure you keep in touch with them and don't just leave the lead open for others to win.